Ok, I will get there, I promise 🙂
I'm sharing with you today both week 6 and week 7 of our Project Life album, because I could not blog at the beginning of last week due to health issues. I guess I should rename this serie ! aaha
I hope you understand…
In these two weeks, i took a lot of pictures on specific moments I wanted to remember. It happened in both weeks. I tried to balance both photos and journaling though. Because I remember what happened now, but it may not be the case in a few years so it's important to me to have the stories not only visually through the photos but also in words.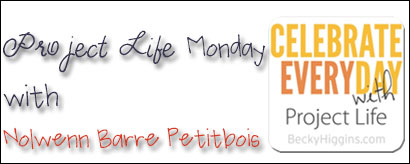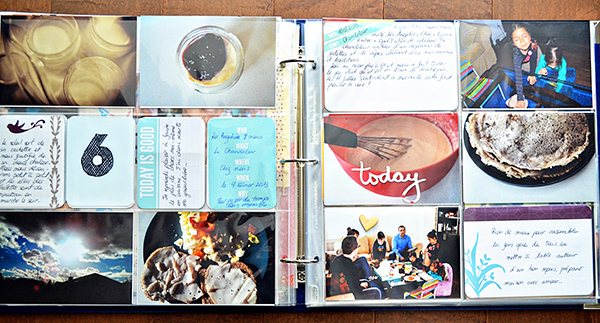 For the same reason I am a Mixed Media artist instead of a regular painter, I mix and match my stach in my Project Life spreads as well. On this one you can see cards from the Seafoam Edition, some from the Cherry Edition too, the «6» I made in Photoshop so I know it was week 6 (and I think I should also ask the exact dates range as well). I cut the «today» with a metal die from The Crafter's workshop.
Click to enlarge: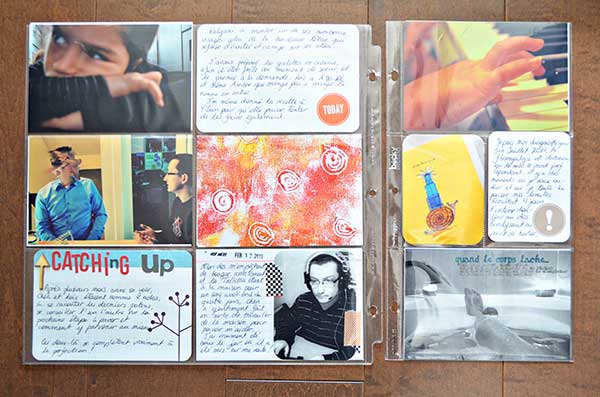 I love that spread. I captured Koala's bad mood pretty good (and I kinda like that the picture is blurry).
This is the Design H on the right, I like it because I can resize my photos with my Big Shot and a die, or use a journaling card to document as well. This is perfect when I don't have enough for a whole spread.
You can see how handy the handmade cards can be when I need a filler on a page. It does not even need word on it, in my opinion. It just adds some visual interest.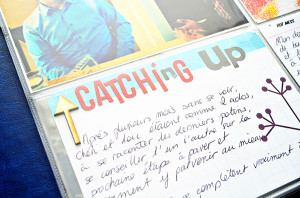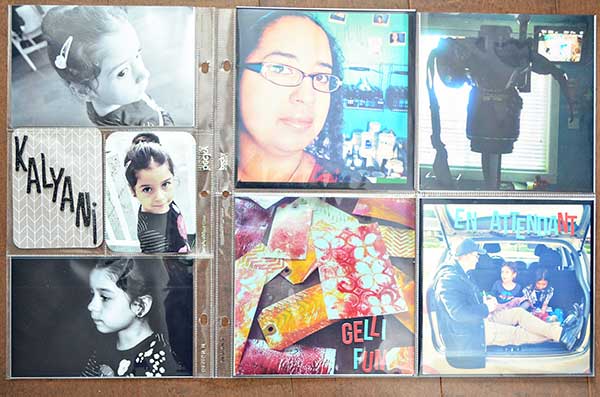 When our friends visited us, I tried a new hairdo on Koala, with a special thing to make the bun. It suits her SO well.
The other side is some Instagram photos printed 12×12 and then cut to fit in the 6×6 pockets.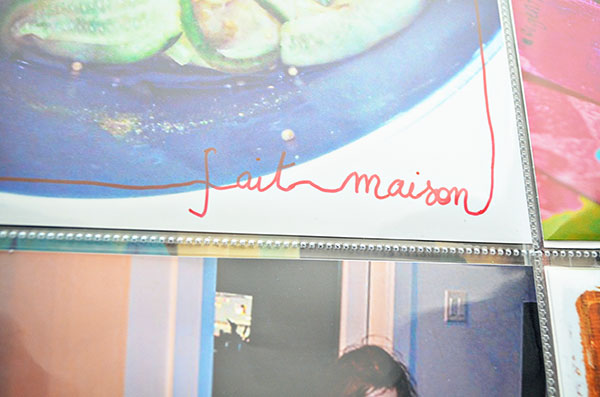 I love that I've found the «Mark it» markers, that work really well on photo paper and come in a wide range of colors. Inspired by Ali Edwards, I added a border all around my picture, with a little title to go with it.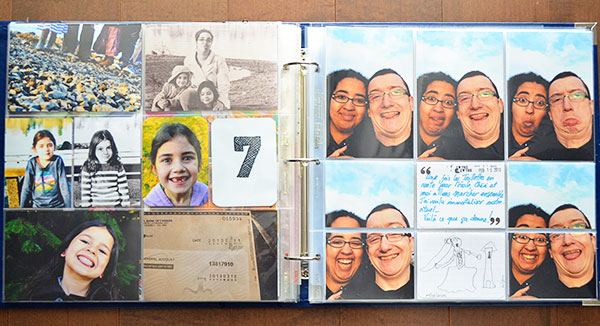 During the week-end, we went for a walk in a park nearby our house (reminds me I forgot one pic to be included ! when we were driving back home, we crossed the path of 4 beautiful does). I took A LOT of picture during that time, but that's okay. I accept that sometimes I need an entire page or more for just one event (this is what makes my album so diverse, too).
On the right, this is photos of us that my husband took with his iPhone while we were doing our morning walk together. We're big goofy kids… could not resist making silly faces. Yup. I cut some in half as well, and love the effect.
I also slipped a drawing Koala did, because I love what it represents (Razpunzel is finally out of her high tower, and she is so happy to be free that she is turning in circles, arms wide open, singing) ;D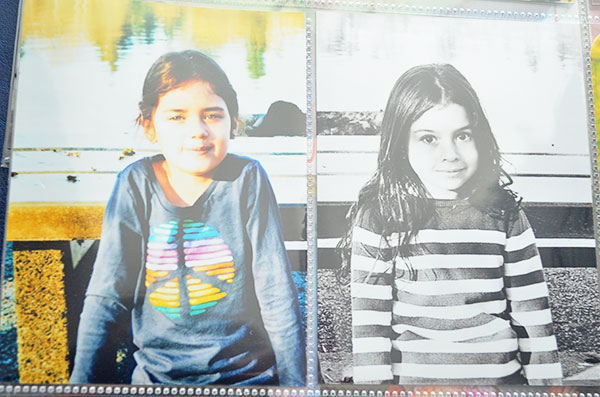 You can see that I cut one picture in half to fit in 3×4 pockets, and that one half is in color while this other is in black and white. The magic of editing 😉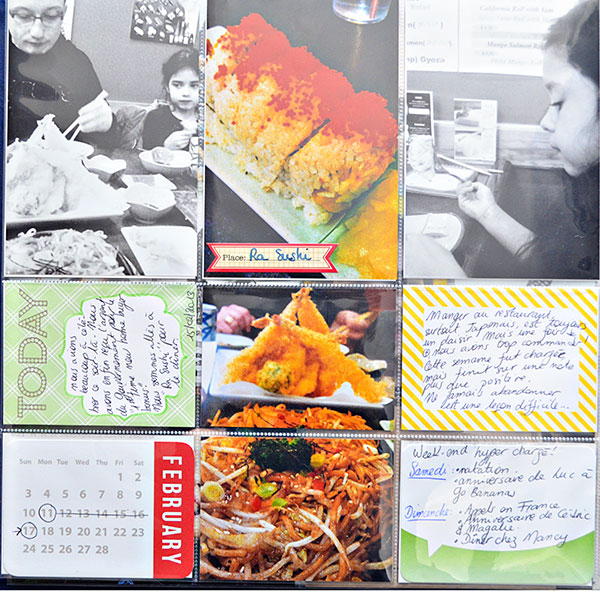 It's been such a long time that 1) I've been craving sushi 2) we've been dinning out that when we received good news we went out to celebrate. The restaurant was suggested by a new friend. We loved it. And for once, the cooks and staff were Japanese (hey, we all know lots of japanese restaurants are indeed owned by people from elsewhere in Asia ;)).
What worked for me for the past two weeks:
Cutting my photos to make a more cohesive looking page.

Knowing in advance that I needed at least 4 Instagram/Square pictures to fit the back of the pocket used the week before.
Keeping in mind why I am doing this project. Keeping this huge feeling of Love when I think «one day, my daughters will flip through this page and remember how it was when they were younger», and I'll be thankful that I am now sticking to it.
Creating the cards with the week number, as well as some quotes in Photoshop and then printing it with my Selphy. I did the same for my «I choose» poem but haven't found a spot for it this week.
Writing directly on my photos with my Bic «Mark It» markers.
What I'd like to improve:
my weeks start on Mondays but i do print my pictures on Saturdays, so my Sundays get lost easily in this organization. I need to find a way(maybe it s as simple as going to Costco on Sunday instead of Saturday)
I want to add more journaling.
And be careful no to forget to add dates.
The time I spend editing my photos in Photoshop before printing them. This is something I love doing; however, it takes quite some time in weeks like these ones when I have dozens of photos to work on…
Here is what I used:
What is not included above: some of the items from Studio Calico January+February «Project Life kits», Becky Higgins' Photo Pocket Design H (bought it last year, love it, but apparently it will only be available again in May), «Today» die from The Crafter's Workshop, some washi tape from Smash, 4×6 cards bought at Staples.
Project Life is a memory keeping system initiated by Becky Higgins. This is how I decided to keep track of our family life.
If you live outside the US, you can order Project Life items on Scrapbooker's Inner Circle.
You can find all my Project Life oriented blogposts right here.