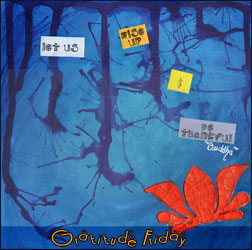 Gratitude Friday is a weekly ritual I started in order to focus on all the small and big positive things that happened during my week. I invite you to join me, you'll see how much being thankful can change your life. If you want to know more about it, read my introduction post.
Happy Friday !
*sigh of happiness*
Sometimes, we really need very little to be happy (and on the contrary, we sometimes also need very little to be upset).
I am filled with Gratitude, more and more. And I really hope that this little ritual of mind will encourage you to pause for an instant and reflect on what makes you happy.
This week, I am thankful for:
Technology, it allows me to connect with my friends that are (very) far away.

The bags Mom sewn for the girls.
Losing weight.
Journaling again and feeling free to write when I want.
The new direction my art seems to be taking.
Cocktails night. We had lots of fun with Nancy & David and enjoyed the cocktails happily made by my Chéri.
Embracing all that I am.
Learning music again.
Music.
The tv show «Criminal mind». Our public library has all the seasons in DVDs, perfect !
Dreams.
Sharing. My paintings. My experiences. My process. My joy.
New doors opening.
My girls' creativity *that has many unexpected faces*.
My Husband and my Mom.
It's Beltaine today (the Summer Solstice), will find a way to celebrate.
---
I will send the next Inner Whispers (newsletter) very soon. You can sign up in the sidebar if you want to receive it —-»
If you wrote your Gratitude Friday on your blog, don't forget to enter your NAME and URL below so I'm notified and can come to read you (you can also join by commenting this post):
[linkme]