I am so happy to finally share a new video with you. It seems like forever since the last ones (a few weeks, actually). I think I really made the habit of recording and publishing a video once a week, and I am loving it for lots of reasons.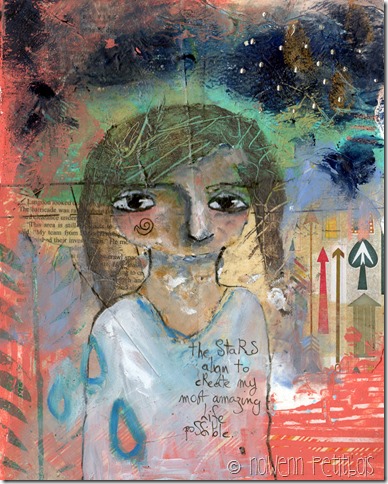 Since I came back from Port Townsend, my Mom tells me how my Nixies' faces have changed. The shading is better. FINALLY *putting my arms high up in the air in a sign of victory* !!! I am not where I want to be with my faces yet, but I love the evolution I see, in such a short period of time. Growth spurt 🙂
I wanted to use this watercolor paper pad I bought a while back. I really enjoyed working on paper almost exclusively (until I gave in and found a store that was selling canvas boards) during Sugar & Spice, and wanted to keep that great feeling.
I collaged papers as a first layer: scrapbooking paper, Gelli plate printed deli paper (can't get enough play with this ! so many possibilities), book page. I used Collage Pauge for the first time, to see what the fuss is about and why people love it. You'll see in the video that the consistency of this glue is quite liquidy, and so I put a bit too much; however, that ended up ok as I used it to cover all the paper with eventually.
The three drops show up in every of my paintings. Maybe I will someday share with you were they come from and what they mean to me. But for now, I let you add a meaning to them if you want. The arrows… well, I love them.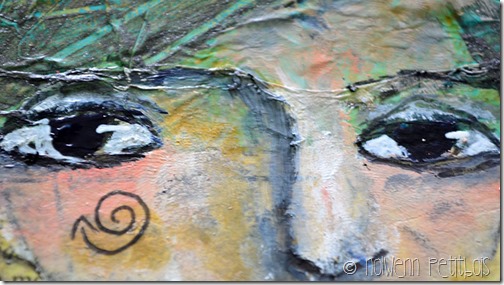 I tried to incorporate some of the things I've learned recently for the shading. I still have a long way to go to find my own voice in the way I shade my faces, but I have no doubt that I will get there more sooner than later.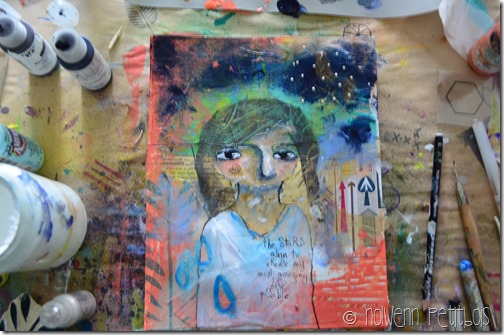 This Nixie is for sale in the shop.
Here is the video, I hope you'll enjoy (if you have any question, please feel free to ask me):