… I apologize for posting the result of the draw a few days late. But I used random.org to select a winner for a spot in Soul Food (it's not too late to join, and we have a payment plan available if you need it, there's nothing to be ashamed about needed it).
I want to thank all of you for entering and especially for sharing these wonderful recipes with me. Can't wait to try.
Without letting you wait any longer, here is the result: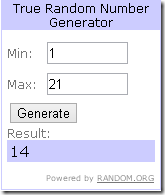 Congratulations Carol !

I will send your info to Heather who will grant you access into the classroom.
I wish you all a wonderful new year <3