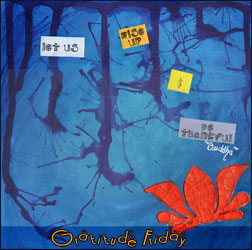 Gratitude Friday is a weekly ritual I started in order to focus on all the small and big positive things that happened during my week. I invite you to join me, you'll see how much being thankful can change your life. If you want to know more about it, read my introduction post.
This week was awesome semaine fut géniale ! Some worries but the goal of Gratitude Friday is to clear this out and focus on all the positivity we received during the week.
First of all, thank you so much to people who thought of me last monday for my 25th birthday. I must confess I wasn't waiting for so much love and it was a very very pleasant surprise. It touched my heart. My day was just perfect.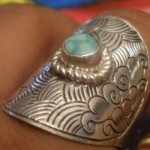 This ring is the gift from my mom. It's made of silver and turquoise, handmade in Tibet. It's full of symbols and when I look at it, I see wind, sun, clouds, waves, two lotus flowers, the shape of it is like a shield around the middle finger of my right hand…
Thank you for the pretty obvious sign I received this week regarding the path I have to follow regarding Healing. I know it'll only be the beginning, that I will step away from it, take what i need and modify it (if i can say so), but I have to start somewhere and it will be with this.
Thank you for the unexpected spot that broke free the day of my birthday for the two-day workshop Jesse Reno will teach via Ruby Dog's Art House. And for the ease with which I find the stuff I needed for it. I must confess i'm totally freaked out because it's not my birth language, that Jesse Reno is kind of imposant via video so I can't imagine what it will be "for real". But I know it's going to be awesome !
Thank you to Raymond, some will understand.
Thank you for September because most of the tv shows I love are back; my husband is not that happy about it though because he can't play video games as much as he'd like to (we only have one tv).
Thank you for this big project Connie put together and for the 20 persons involved in the "21 secrets" workshop. Can't wait for October 1st !
I'm so happy that Netflix is finally here in Canada. I hope all movies and tv shows will be available soon. We'll be able to see all the season of Lost etc. We can't go to the movie, so the movie comes to us 😀
Thank you for the after-school facility for Grenouille and for all the educators. She does not want to come back home anymore because she loves it so much there…
Thank you for all the hope brought in my life regarding my projects and our shared projects.
If you wrote your Gratitude Friday on your blog, don't forget to enter your NAME and URL below so I'm notified and can come to read you (you can also join by commenting this post):
[linkme]