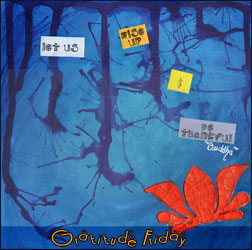 Gratitude Friday is a weekly ritual I started in order to focus on all the small and big positive things that happened during my week. I invite you to join me, you'll see how much being thankful can change your life. If you want to know more about it, read my introduction post.
Hello my Beautiful friends !
How was your week ? I hope it's not too crazy, with Christmas nearly around the corner, just two weeks from now.
This week, I am more than grateful for the two huge packages we receive from my family-in-law, filles with clothes for my girls, and food we don't find here in Canada (not forgetting a few gifts to put under the tree, sssshhh).
Thank you also for my BFF Paola for the joy brought to us via her package. I am sent back to childhood and teenagehood via the diary she offered me, one with two little keys like when I was little. The illustration suits me very well, this girl holding this HUGE key in her arms, and the witch broom on the back… perfect ! My girls are over the moon with the story album and what went with it. Grenouille is already planning the exercices to do 😉 She reads faster and faster everyday, it amazes me.
Thank you to my doctor.
Thank you for my Mamounette (my mom), just because.
I am thankful for Koala's preschool, they organized a trip to a show this week and apparently it was awesome. My little was with one of her friend and her mom, who she loves.
Thank you so much for the rain that doesn't pour over us 24/7, which would depress me; even if it's the season, I know
I am grateful for all these lovely people who share their ideas and creations in this festive time of the year. My brain will explode with all these things i wish to explore. Days are too short and Christmas is just too close.
I am blessed with a nearly perfect husband, he is the best for me and I am lucky to share my life with him for nearly (in three days) seven years.
Thank you to my Circe's Cirlce Sisters, with who I had our last call yesterday. We share this special bond that was created during ten weeks together.
Thank you a lot to Anu for her suggestion of creating a calendar with my artwork. I created it this week, it is simple but powerful (in my opinion). I filled it with positive artwork, so you'll have a reminder of your true Beauty every month of the year. You can see and buy it here: "You Are…" calendrier 2011 I hope you'll like it !
I hope you are doing great despite the fact that sometimes, the last two months of the year are harsh. It's time to dream of 2011 and what we want it to be, how exciting !!
Take care of yourself, and of those you love.
If you wrote your Gratitude Friday on your blog, don't forget to enter your NAME and URL below so I'm notified and can come to read you (you can also join by commenting this post):
[linkme]