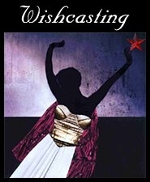 I know it's been a very long time since my last participation in Jamie's Wishcasting Wednesday. I won't tell fake excuses. But today felt like the good day to wish upon a star.
It is the end of the year. Already. It may sound like a cliché but I like December to reflect on the progress I have made, and to think of what I want the year to come to bring me, to look like. Even if I do love the surprises put on my road by the Universe, it adds a bit of fun don't you think ?
Today, my deepest wish is to know that women feel empowered by the Nixies I create. I wish to send them everywhere in the world, I wish that people feel a connection with the messages of their stories. I wish to grow and expand and finally soar as an artist.
I wish to finally feel like I belong in this artistic community, that I am not an impostor.
I wish to continue to enjoy every step of the way. To love each of the Nixie that comes to life. I wish to deeply trust that I am doing the right thing. That it is not a mistake again. That this is more than just another hobby.