Summer vacations, two months to fill with plenty of occupations so my girls don't get too bored and to make time pass faster for everyone.
The solution I found ? cooking, making any type of art, going outside when it is sunny (and for them, napping for a couple hours every afternoon).
Traci Bunkers
is the queen of finding and comitting to something for 30 days. In the past, she did
30 days of carving
(stamps), and
30 days of journaling
. For this month of july, she just wanna have fun and create something everyday for 30 days. And she invites us to do the same 🙂
I love challenges but i found it hard to commit to something. I tend to make art every single day except the week-ends, as it is spent with the husband and kids.
Here are MY rules for this month (based on Traci's but modified to suit me):
I'll make art every day for 30 days and post what I have done. But I may not blog about it everyday, it is OK to write a recap post.
I don't have to finish what ever I'm working on that day, I just have to work on something.
I have to work on something at least 5 days a week, 6 or 7 would be better.
It doesn't matter what I do for the art making, as long as I work on art. It can be art journaling, mail art, a painting or whatever.
I won't feel guilty for taking the time to work on art and I won't have to justify why I'm doing it on the week-ends.
I don't have to go into detail in my post about how I did anything or what tools, materials I used (unless I want to).
I must have fun
It is even better if the girls are also creating something by my side, but it's not mandatory.
So yesterday, July 1st, was the first day of the challenge. I gave each girl a small canvas board the day before, where they just played with acrylic paint; I showed them that we can get different effects depending on the tools we use to apply the paint (our fingers, the whole hand, a brayer, a paintbrush…). I did the same on a larger scale.
Yesterday, they discovered the joy of what is a stencil so we had lots of fun exploring it with Adirondak color washes and some sprays by Lindy Stamp Gang.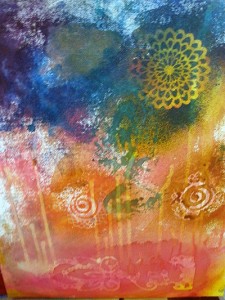 And some details: