NOTE: This month, I am browsing through all the draft blog posts I have and found this one below. It was written exactly ten years ago to the day. It feels really (really) weird to read those words I have completely forgotten about for so long.

In one week exactly (on September 20th), I will turn 26. It may sound young for most of you, or not. For me, it is just a sign that I can't deny anymore that I am now an adult. That I am not anymore in the 18-25yo category. That I should have accomplished way more with my life than what I actually did.
So yes, I have a lovely wonderful amazing husband that I married 6 years ago and gave me two fantastic (tiring) little girls and I love them more than I could ever express. But my life is kind of summarized by them; I am "the wife of Anthony" and "the mother of Grenouille and Koala". That's it.
I usually am the one that knows it is gonna be okay because it always turned out alright eventually. And it will always be. This is just the right now that sucks.
Maybe I am currently falling into depression and I can't seem to find the light by myself. Maybe it is just the change of season looming around. I don't know if I will actually post this or not. What will you think of me after that?

This is so weird how a decade later, I can still somehow relate to what I wrote then. Back to today: now one week away from turning 36. I can't believe I am now closer to 40 than to 30. For some reason I am trying to understand, my mind is stuck on me being 18. This December will mark having spent half my life with my husband.
When I talk about it to my husband, he suggests it's because my life drastically changed at that moment. My best friend Cocotte is sharing this feeling as well so we try to decipher the root and why of it together now and then. That's a story I should talk about with a new therapist (still working on finding someone here as my former therapist can't work from one Province to another…).
I have a lot of white hair now and I kind of actually really like it. I see them as a sign of growth instead of a passing of time. Covid or not, death has been on my mind for a while. Not in a morbid kind of way, but in an "I must be prepared to leave this world eventually" fashion. I do not have the ability to know when or how I will die, so my daughters need to know what I want my final stages to be.
My dreams are both the same and different. I am still grateful that my husband and I still love each other dearly, no matter the crashing waves we have survived: at least we are together. My daughters are their own person and what a ride it is to be their Mom! I did not become a psycho-analyst nor a chef. Working in the entertainment industry is still a dream, but I gained experience both on my own and in my recent college studies. I know what my dream career would be, and I am taking steps towards it. But Fear is so big… it makes me procrastinate. Fear paralyzes my actions, and therefore I stall.
It's okay to evolve.
I have this obsession with storytelling. I don't know how come it's been nagging at me, but I can not deny it. Each of my paintings has a story to tell. Some of them are known before I start, some evolve during the creative process, some are whispers in the dark. I have been thinking of combining this and writing for over a decade but the Gremlins keep yelling that 1) who am I to think I could write a book? 2) nobody would even be interested in it, anyway.
But you know what? Fuck this. Because if there is something I have learned in the past ten years is that I am not a fraud. Do I still suffer from imposter syndrome? fuck yes. Does it stop me? Doing my best to go past it.

So who knows, maybe I will put all these stories and images together eventually. Just for the process of it. For me. And for my daughters who are currently craving to know more about who their mother is.

A song for today: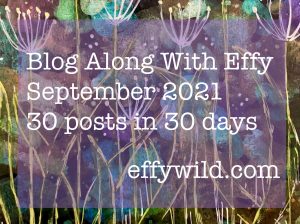 I am doing my best to use this push from Effy to blog every day this month.
September is my birthday month and for once, I am tackling it differently.
I really hope you'll find nuggets of interesting things in my words and in what I share. I love reading your comments.
Thank you for being here.