You know that Vancouver's nickname is RainCity, right ? It is a truly deserved name. No matter the season, clouds like to pour their tears on us.
This weather imply very little natural light very often. Which is not very helping for painting, recording a video, or taking pictures.
Some lamp with «natural light bulb» exists. We were lucky to score some at Costco, for $13 ! We did not really thought of it, and grabbed 2 (one for my husband and one for me)… and we realized when arrived home that the cashier forgot one (or whatever happened), so we paid only one lamp… Oops.
Here is what my art table (aka dinner table) looked like this afternoon: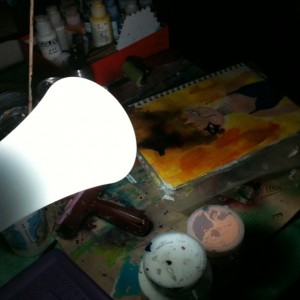 Was just warming up in my new Art Journal (one of the big Strathmore visual journals) before starting a new painting.
This lamp saves my life 😉 It also means I will be able to do videos no matter what the weather is. YAAAAY !