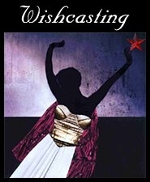 I know I know… an eternity passed since I last participated in a Wishcasting Wednesday.
This week, Jamie asks us What door do you wish to open ?
I am today in a place where I am wondering if my artwork will eventually get notice someday. I work everyday, I do my best to be seen but it feels like it is all for nothing. Does it make sense ?
I know deep inside there is a place for me in the creative world, I just know it. I just wonder what do I have to do ? This is now more than just a hobby, I sell on Etsy (some journals, prints and originals will be listed next week), but not much.
So I wish to open the door of amazing professional opportunities, the door of success and of accomplishment.
This is a short blogpost but a really meaningful important wish to me. So dear Universe, please grant my wish <3