Amelia… I would never have thought to discover her on one of my canvas, nor sharing her life story. This is with a Nixie like her that I am happy to have decided to share their stories instead of keeping them all to myself.
She is one of these nice surprises that make me pick up paint and charcoal everytime I can to meet the Nixies that come to life from it, with a specific message to tell and then to be shared with the World.
Here is Amelia: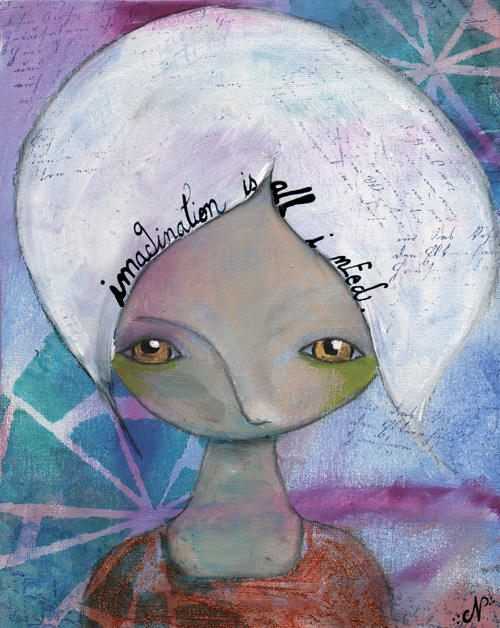 She was made on a 8×10″ canvas board.
I began by laying some colors I was drown to on the surface. Just playing around. Then I wanted to use the «Fragmented» Canvas by Julie Fei-Fan Balzer (Made by The Crafter's Workshop. It is a stencil I love and it offers plenty of possibilities (I used it several times in my Art Journal since I got it). This time, I kept it simple and used it with pure acrylic paint. Simple can be good too.
At first, I had in mind to paint her hair with color but needed a white base to be sure it would be opaque and not too transparent (one of my previous recent painting was a disaster, partly because of this). But then I just fell in love with this white, letting us see the background through it just enough. And of course, I decided to leave it like this.
Her top is all glittery because a Nixie with a story like hers definately needs some glitters in her life.
Amelia has this je ne sais quoi of different from the others…

Amelia is a dreamer. You can see in her eyes that she is halfway here, halfway there. Where is «there» exactly ? She will never (ever) tell it to anybody; she escapes in her inner bubble where her World is finally perfect, where she surrounds herself with protection, softness and love. Where no one will hurt her again.

She spends most of her time alone because she is afraid of letting people in. Not that she actually likes being alone, but she is sure that it is better than being in pain because of others. She knows, deep inside of her, that she should not be afraid that much, but Fear overpowers her.

Imagination is all she has, this is her secret sanctuary. This is what saves her.

She often feels shattered, broken into a million pieces because of what happened in her past. She does her best to heal though. She knows she is stronger than what she thinks. And she indeed is.

She decided to help others to overcome their past, Amelia knows the power of sharing her experience so others who have similar backgrounds do not feel alone like she does…
Of course you can buy her print in Inner Worlds, my Etsy shop.
Some details (as usual, click to enlarge):