I am in a period of letting go. Letting go of my expectations, letting go of my perfectionism, letting go of what i think my art should look like.
I open myself to possibilities and to whatever may appear on the surface i am creating on. It means that I also have to let go of what «normal» is, how a kitty should look like, how a face should be this color and not that one. Letting go of all the SHOULDs that fill my brain all the time.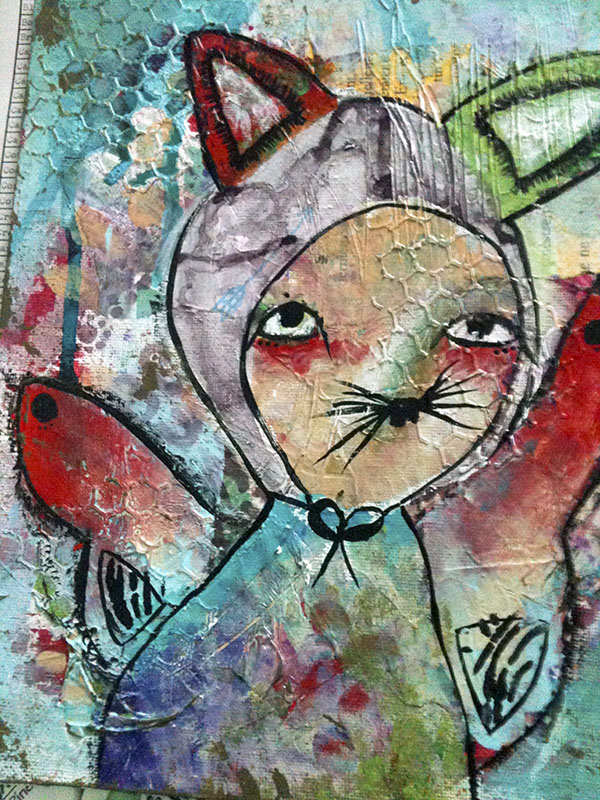 This new Sprixie is called Mindy. Her message is pretty straight forward: be who you are because you simply are exactly how you are meant to be.
Mindy loves to dress up as weird animals that exist only in her imagination. She does not care if a kitty is not supposed to have wings. She does not even care if both wings do not look like the same. «Weird» is her «Normal».
As lots of other Sprixies, she adores being out in the magnificent Nature surrounding her. Her friends are lovely but pretty shy, Mindy is one of the only Soul able to see them and have their trust. She would do anything possible to protect them.
The painting is made on 11×14″ canvas board. I used acrylic paint, stencils and gel medium, inks, pastels, lots of love and much more.
Mindy's 8×10″ prints will be available in the shop soon and the original painting is now looking for a new home ($89 +shipping). Contact me if interested 🙂