Good morning/afternoon/evening !
I am so happy to share with you this new video. I want to make and share more of them this year (which mean accepting not to look for «perfect» and do shorter videos as well).
Reilly is part of my Nixies created in Mindy Lacefield new year long class called True Free Spirit. I may share quite a lot of what is going on for me in this class this year (be prepared). We have a lesson a month, but I am doing plenty of paintings around it to practice and enjoy.
This month is about creating a character with a tilted head. Which is out of my comfort zone, as most of my Nixies are facing us straight. But I love challenges, and learning. So it's all good. And I can always ask for advices on our group, which I did for Reilly, as there were some points I was not sure where to go with her. This is priceless.
«To live is to suffer; to survive is to find the meaning in the suffering.» Frederich Nietzche
I created her on GessoBoard. I truly prefer to work on a hard surface, like wood panels for example, because of the first layer that usually is collage. Applying the paper on a hard surface is easier, especially when you need to press with your tool to get the gel everywhere so it won't bubble.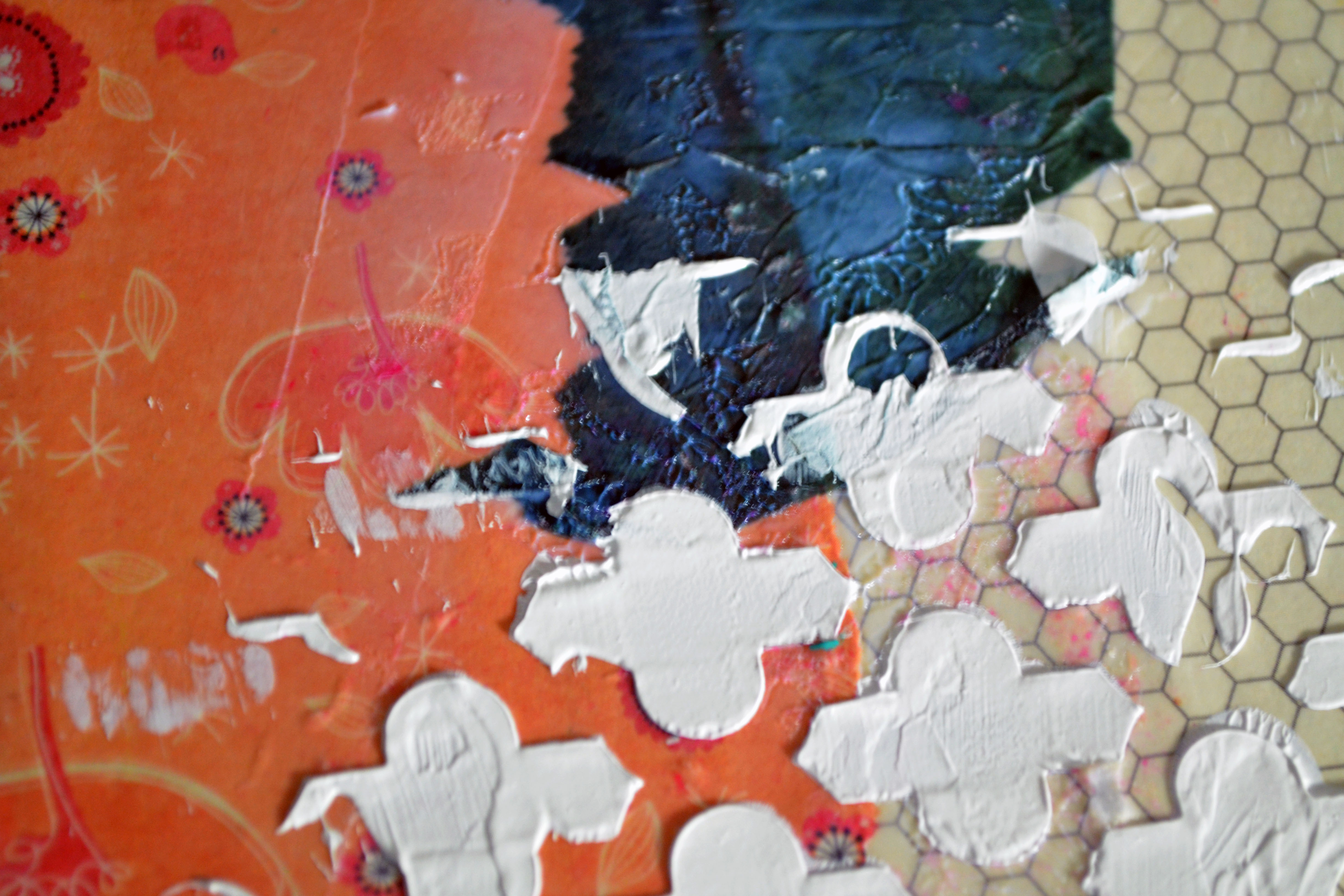 I surprisingly went pretty simple in my first layers of papers, using only three different scrapboking papers, and two tissue paper (the dark one is bleeding tissue paper, the other one is pattern for sewing).
I used my stencils with different media for this Nixie: heavy matte gel medium and extra heavy gesso. I decided to switch to the gesso to add visual contrast with what was already happening. The paint and ink react differently on them, which is fun (but you have to keep that in mind though).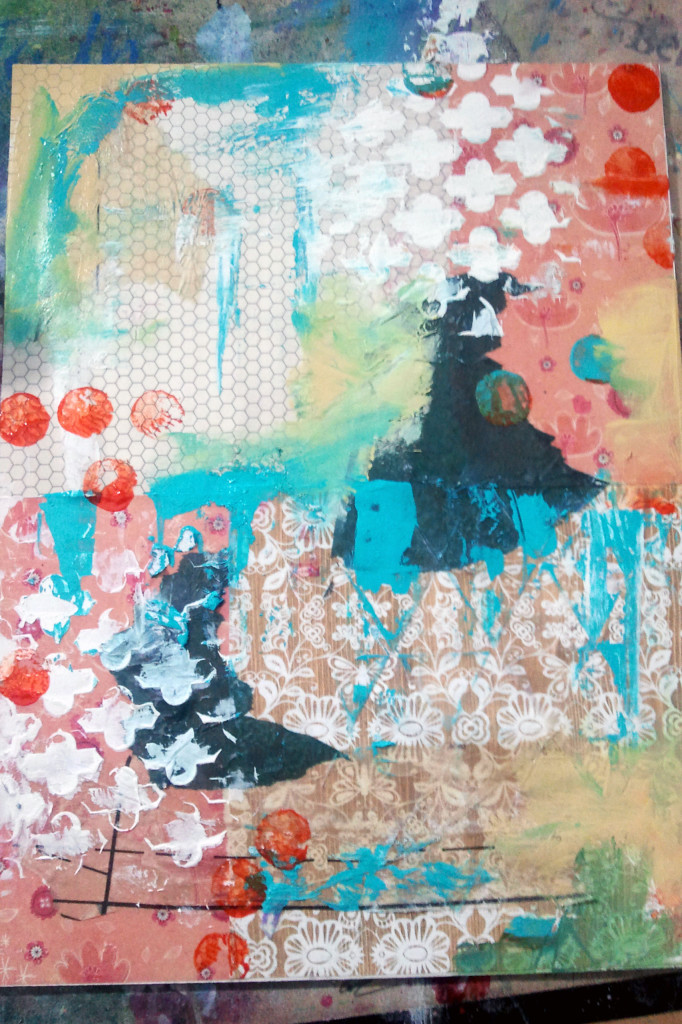 I love using items to create my marks. This time, I wanted circles and used a cork lid dipped in the acrylic paint. So much fun ! At this stage, I was loving it. The colors, the patterns, everything. It became more of a struggle after…
Seeing my character emerge is always a magical moment for me. Seeing them appear in the background and them pushing them forward. But it is something harder than it seems (this is when I think that having a sketch to follow, as I did when I began, would make my life easier ! ahah).
You'll see in the video, I went back and forth between her face and the rest of the painting. This is my tactic when frustration strikes right in my face. Her face is composed of layers upon layers (and I did work on her after I thought she was done, so after the end of the video).
This arrowed spiral is one of my favorite symbol and I was happy that it popped into my head. AND it was the perfect spot for Reilly's message 😉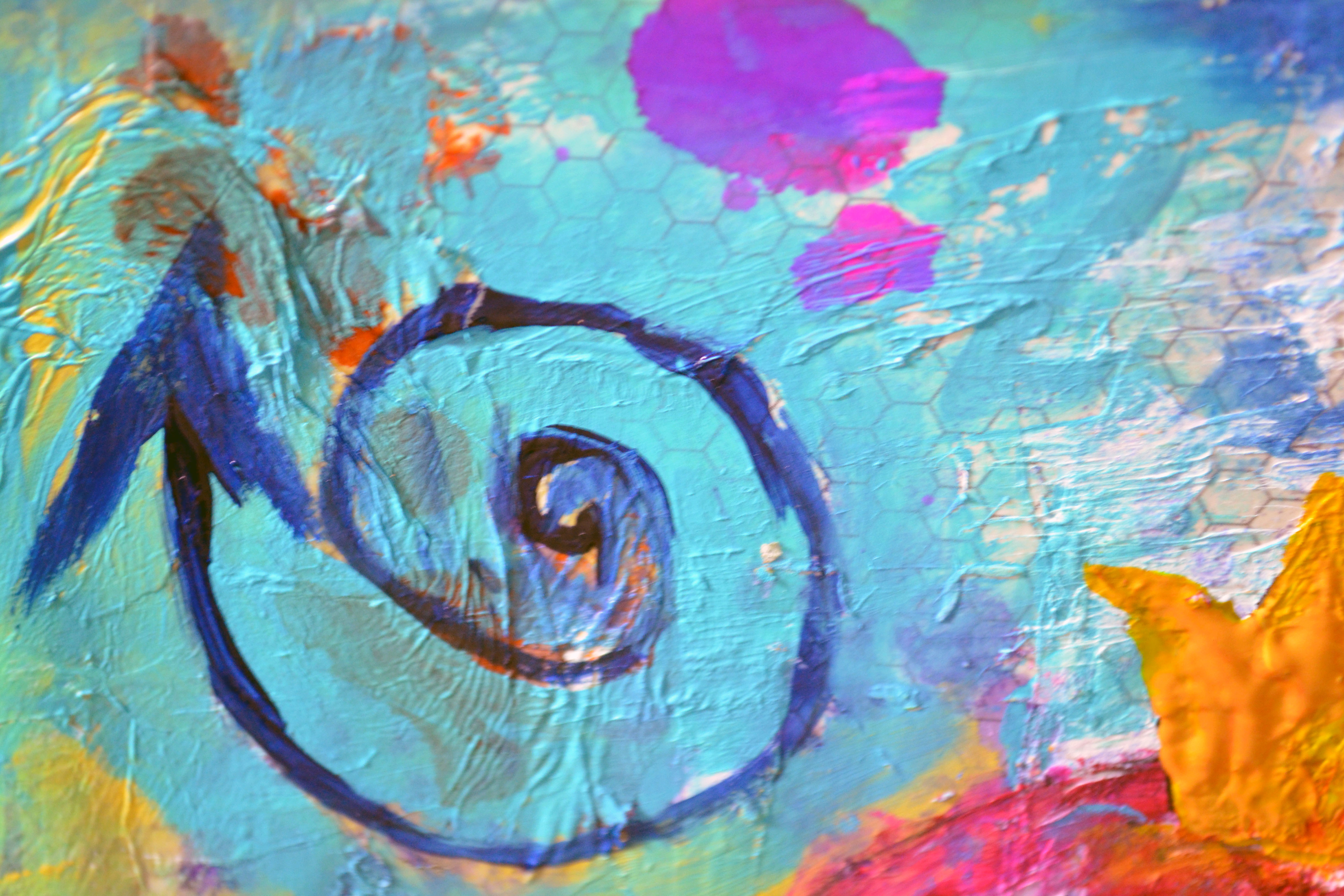 Here is the video. I hope you'll enjoy: