I like Valentine's day because it is a day people remember that it's important to show your appreciation for those in your life (it is not all about the sentimental love even if I know that my single friends tend to see it as a reminder of the «i am not with a special someone»).
I did not want to buy the cards my daughters would hand to their classmates and decided to go all the way handmade this year. It took time, and energy and some stress yesterday evening to get them all ready and pretty on time for today, but it was worth it to me. We created it together. Spent some time together. And this is priceless.
I finally got a Gelli Plate recently, and it allowed me to do the backgrounds more quickly (you'll see in the video that for the tags, I was able to fit 6 on the plate at the same time. So when you have 22 of them to create, you're happy about that fact).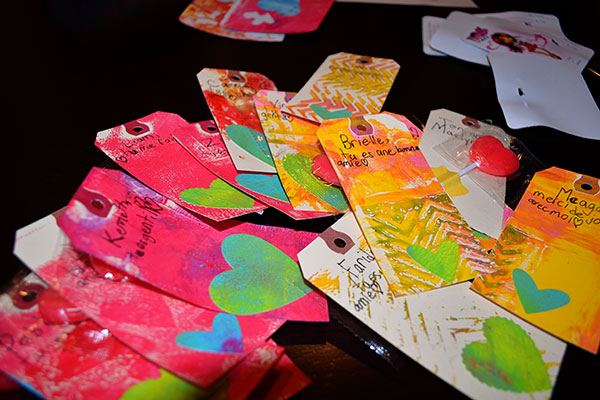 I just played a bit, seeing what this or that would result in.
Julie Fei-Fan Balzer has an affordable class about the Gelli Plate, so I jumped in and learn.
What you don't see on the video is that I used my Big Shot die cutting machine to half the cards into 3×4″ instead of 6×4″ ones (that's a long story…). This is in these moments I am thankful for The Crafter's Workshop 3×4″ die that made it so easy and pretty (yay rounded corners).
Grenouille did a very good job at glueing all the cut out hearts and writing little nice customed messages on each of her tags, by herself.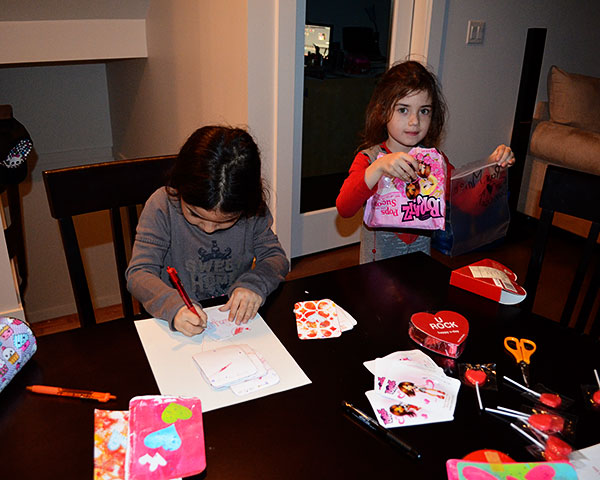 I'm not a card maker so it was pretty challenging to me to 1) find what to do 2) be okay with it being quite simple. But at the end, when I look at the pictures, I am happy with the results. Happy that each kiddo received a one-of-a-kind card.
Please, if you have any question, feel free to ask in the comments.
Here is the video: