I am SO excited to be sharing a new video with you today. And moreover an Art Journaling one. It has been forever since my last one… I decided it does not have to be long. or perfect. Proof is, I had an issue with my camera not recording a small portion of it (when I spray the solace stencil) but decided to go on and share the video with you anyway 🙂
What you won't necessarily see is how I struggled here and there. For example it took me to try 4 different media on the last line of my journaling to finally find something that would be readable over the dark background.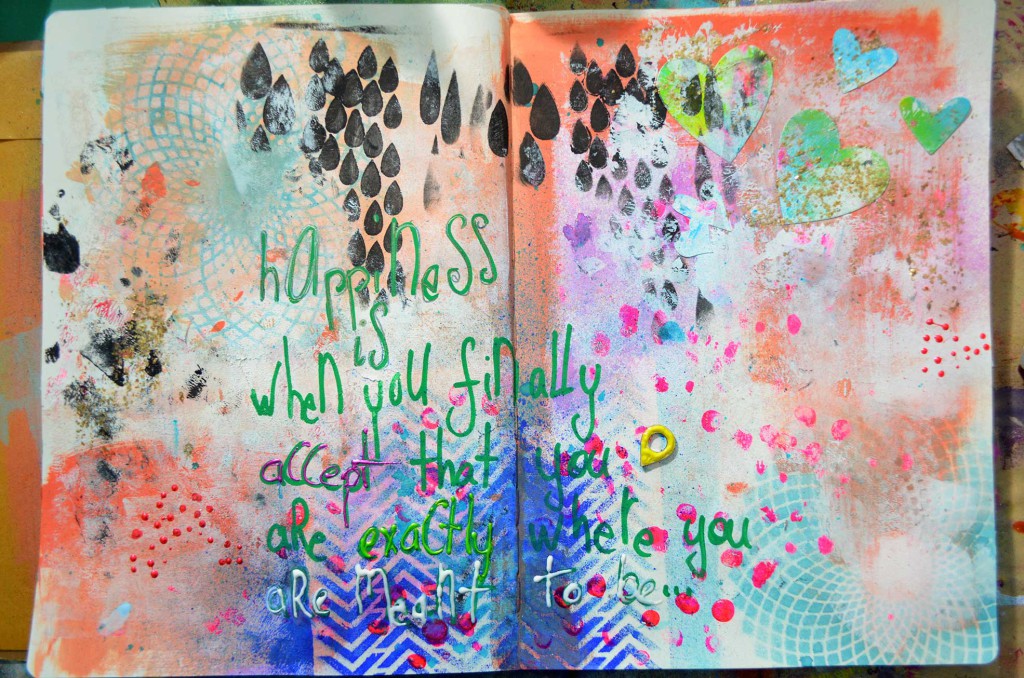 I used left over die cut hearts from our Valentine's cards made last week (strangely, hearts is not a shape I will often use).
I used my brayer with some white acrylic paint to push back some of the elements. I wanted to still be able to see them, but did not want it to be too much in my face. I like subtle. And having to really look at the page to see what's in there.
I wanted to try the Golden mica flakes too. They are in a transparent gel and add a little magical touch I really like. I love shimmer, but I am really not into glitter. However, these gold flakes are great.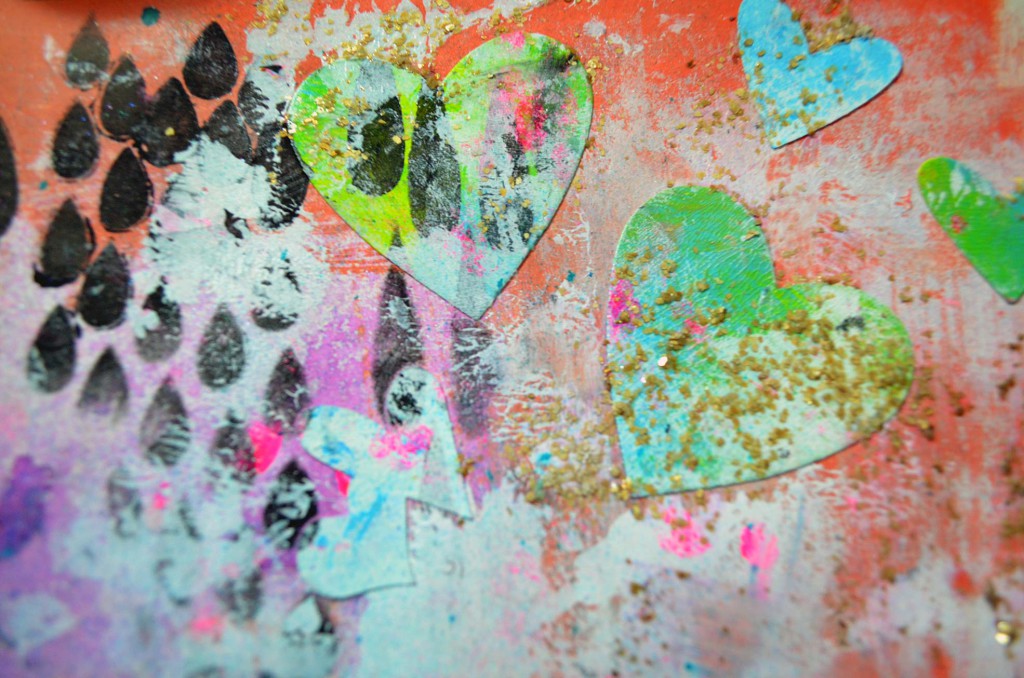 Using the Blending tool makes the pair of paint+stencil so much easier ! It allows me to have a crisp result, which you know does not happens when you pair a stencil with spray ink/paint.
I always start a creative sessions (whether it is in my Art Journal or a painting) with a few minutes of Reiki to put myself in the right mindset, to be more open to what will come to me and sometimes to set an intention.
This time, the intention behind the page came when I glued the hearts. I knew this spread would be about being in this Universal happiness feeling, knowing that happiness is not something you find, but something you know. And of course, Acceptance had to come along the way.
Here is the video, I hope you'll enjoy:
For info, the products I used:
What you don't see in the list above: the Chevron 6×6 stencil from The Crafter's Workshop, and the Rain one still in 6×6 format (these two stencils are by far on top of my go-to stencils). Other colors of Liquid Pearl. White acrylic paint. The hearts die cut I used with my Big Shot machine.