When in doubt, start with what you know.
This is the mantra I have been repeating to myself lately. When my hands get all itchy because they want to move paint around, because they want to create texture that tells stories and add colors but that fear of the unknown starts creeping it, this is what I tell myself.
I am a never ending explorer when it comes to my creativity. However, I am also very much my worst saboteur. It's been a wild ride in the past year, and I almost stopped doing anything in my Studio. But I am not a quitter, and I guess painting is in my veins because even though I do not paint, ideas and stories and faces invade my mental space. A texture I see, a name I hear, whispers of stories to be told… it's always there.
This is why I decided to stop fighting against all this, and to give in to it, to go with the flow. But what to do when it's been months without creation ?

I live in colors, texture and emotions. This is the fuel to my Soul.
And by being well aware of this Truth, it helps me when I am doubting everything else. I astonish myself to find inspiration everywhere because of it (life is made of textures and colors, and ruled by our emotions and reactions to events).
I believe life is what we make of it. And decided to stop bitching about what I lack of, and instead I decided to focus on what brings me true joy and pleasure. What makes me feel like I am home. This is when I said to myself "F*uck it, just go and do something. Play around with what you know works well, and see what happens". To my surprise, I was hit with a huge crashing wave of happiness, that giddy feeling you get once you are in your comfort zone and didn't remember what it looked like. And to top it, a Nixie decided to show up (you might remember I took a break from painting Nixies).
It's okay to get back to your comfort zone.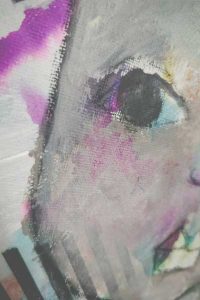 It truly is no big deal. If it is what you need to go away from giving your (he)art up. As long as you are aware that it is to get back in the swing of things and that you continue to be adventurous, to explore the edges of that comforting and beautiful zone so you can push them.
So yea…. Nolwenn is back ! *hooray*