Not long ago, I opened a blog dedicated to books. Because I like to keep things separate sometimes.
However, I know some of you love books as much as I do, so I thought I could share some of my favourite reads so far 😉
I would love for you to share with me in the comments the books you enjoyed.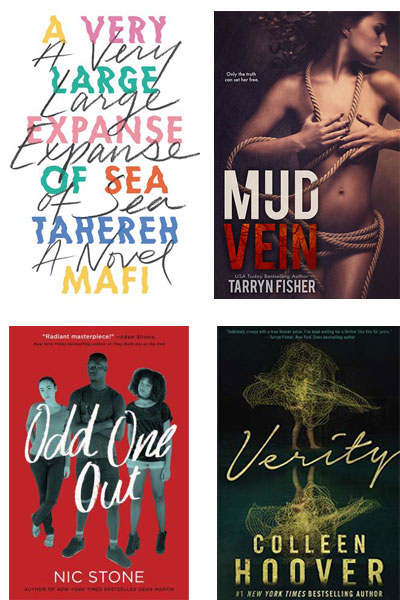 A Very Large Expanse Of Sea | Tahereh Mafi
This is a book I wanted to read since before its release. I knew the author was inspired by her own experience as a Muslim teen after 9/11. I was both scared and excited to read this story. This is the first book from her that I have read, so her voice was new to me. I was also very interested to see how breakdance would fit in the story, as dance used to be a big part of my life.
I was not even remotely surprised at the violence, both emotional and physical, that the main character had to endure. Isn't it sad, though? That we *know* people are assholes but have no clue how to react to it?
This book made me feel a lot of emotions, it did make me cry and stirred a lot of questions I need to figure out.
It's 2002, a year after 9/11. It's an extremely turbulent time politically, but especially so for someone like Shirin, a sixteen-year-old Muslim girl who's tired of being stereotyped.
Shirin is never surprised by how horrible people can be. She's tired of the rude stares, the degrading comments—even the physical violence—she endures as a result of her race, her religion, and the hijab she wears every day. So she's built up protective walls and refuses to let anyone close enough to hurt her. Instead, she drowns her frustrations in music and spends her afternoons break-dancing with her brother.
But then she meets Ocean James. He's the first person in forever who really seems to want to get to know Shirin. It terrifies her—they seem to come from two irreconcilable worlds—and Shirin has had her guard up for so long that she's not sure she'll ever be able to let it down.
Mud Vein | Tarryn Fisher
First, I need to issue a warning for this book. If an assault is something that is triggering you, you should pass it.
Okay… I want to be like Tarryn Fisher when I grow up.
She is gorgeous, unapologetic, speaks her truths loud and clear… Her books tackle the human psyche without fear. She speaks of cheating/being cheated on. Starting over. Feeling like you are not worthy. A lot of heavy stuff, in fact. However, don't believe that Tarryn's all dark because that would be a false impression.
Mud Vein was not an easy read. We are taken back and force between the present (where our two main characters have been abducted and put together without knowing why and by whom) to the past. My heart felt tight for most of the time I was reading. But I wanted to know more and more. And I was not disappointed at all.
When reclusive novelist Senna Richards wakes up on her thirty-third birthday, everything has changed. Caged behind an electrical fence, locked in a house in the middle of the snow, Senna is left to decode the clues to find out why she was taken. If she wants her freedom, she has to take a close look at her past. But, her past has a heartbeat…and her kidnapper is nowhere to be found. With her survival hanging by a thread, Senna soon realizes this is a game. A dangerous one. Only the truth can set her free.
Odd one out | Nic Stone
I love me some books about finding your identity, and owning it (or not). In this story, Nic Stone is telling us the story of two best friends (live-next-door-type-of-BFFs) who are navigating the teenage years and the feelings that go with falling in love, being an open lesbian, and all the what-ifs that can cross your mind when you've been so close to someone that you know the person by heart… or at least, you think so.
We hear the story from the point of view of each different main character (Coop, Jupe, and Rae). I usually adore books told in various point of views, and this one was great!
Even as an adult, I keep coming back to questions that were on my mind when I was 17. And these books are great helpers, immersing myself in their stories.
Courtney Cooper and Jupiter Sanchez (Coop & Jupe!) have been next-door neighbors and best friends since they were seven-years-old. She's his partner-in-crime and other half. But lately, Cooper can't ignore he might want something more than friendship from Jupiter. 

When Rae Chin moves to town she can't believe how lucky she is to find Coop and Jupe. Being the new kid is usually synonymous with pariah, but around these two, she finally feels like she belongs. She's so grateful she wants to kiss him…and her.

Jupiter has always liked girls. But when Rae starts dating Cooper, Jupe realizes that the only girl she ever really imagined by his side was her.

One story. Three sides. No easy answers.
Verity | Colleen Hoover
I have a reading crush on Colleen Hoover, I have to admit. Plus, I keep stalking her Instagram account 😀 She's BFF with Tarryn Fisher and their relationship is very fun to witness on social media.
I have now read many books by Colleen Hoover but I have to say that Verity is the most fucked up one!
I knew people love this departure of the author's usual tone, and I kept wondering what would be different. WOW. It is definitely an adult book for major sexual content. And disturbed moments described. I had to talk about the story to my husband while reading it, so I could let some of the strangeness out… It was really really intense.
Lowen Ashleigh is a struggling writer on the brink of financial ruin when she accepts the job offer of a lifetime. Jeremy Crawford, the husband of bestselling author Verity Crawford, has hired Lowen to complete the remaining books in a successful series his injured wife is unable to finish.

Lowen arrives at the Crawford home, ready to sort through years of Verity's notes and outlines, hoping to find enough material to get her started. What Lowen doesn't expect to uncover in the chaotic office is an unfinished autobiography Verity never intended for anyone to read. Page after page of bone-chilling admissions, including Verity's recollection of the night their family was forever altered.

---
Note that the Amazon links are affiliate links. If you order something within 24hrs of clicking, I will receive a small commission ?