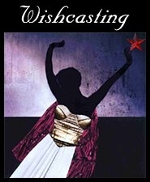 Today, Jamie's asking us What do you wish for your relationships?
I was one of the several "students" attending Kelly Rae Roberts first ever online class called Flying Lessons.
It was a growing five-week experience that I didn't go through entirely now. It will take me some time to digest, and to apply all the informations learnt during this class.
But one thing I really realized during these weeks is the importance of the Tribe. Connecting with people having the same goals, the same dreams, even if it's not exactly 100% the same.
I wish for my relationships to be trustful, sincere and win-win.
I want to help people grow as much (or mooore) as they have a place in my own evolution. We are all here for a reason and nothing happens just by coincidence, the good and the bad; everything is there to help us go on on our path.
I wish to be surrounded by people who believe in me, in my dreams, who cheers me up when doubts feel my Soul. I want to be there for people who need what I know by experience. I wish to grow stronger friendships. But I don't want to be in the waiting of something regarding the relationships I have.
I just trust. And everything will fall into place when the time will be right for it.