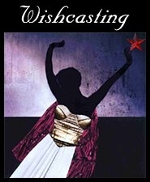 This week, Jamie is asking us about what we wish to envision… Strangely, it's not as easy as it seems for me to formulate this one.
Lately, I started again working on Positive Affirmations. Everyday, I visualize, I declare, I feel, and I enjoy receiving what the Universe answers me with.
I wish to envision my life as an Artist, as the Healer I feel I am in a way I don't see yet, as a loving mom/spouse/friend/daughter.
I realize that making art (and trust me, art has a lot of gazillions of different faces) is what makes me happy, what keeps me sane in my daily life. So yes, it's frustrating for some reasons (dreaming of a space dedicated to creation, having to stop because of X reason etc.)
I wish to discover why I am here. Why I can't make concrete what I feel I have to do.
I wish to envision people happy and seeing how they can change their life thanks to one of my big project, because I feel it's important I build it and share it in the World, but regarding this, the Universe seems blind 😉
But I hold up tight and don't give up. Nop.