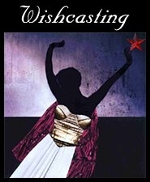 This week question is very hard, I don't have answers as I am writing this. But I hope that by writing, it will come, as by magic !
I always try not to look back too much at my past. I acknowledge it, I know it's there but I prefer to focus on today and tomorrow because the past can't be changed.
It's funny to say this as my book project is about the past and so I have to think of it quite often. Sometimes it is fun, sometimes it brings tears and nervousness. I can't modify it, so I have to cope with it and accept that my past makes who I am and that today will be tomorrow's past: I can create it as I want it to be ! Never forget that.
So… saying that, I wish to make a fresh start in the relation I share with my Self. Not only my body, but with my psyche too.
Because my worst ennemy is simply me. Or at least, it used to be like that. I want to make a fresh start in this relationship. I am not a bad person, sometimes I make choices people do not understand, sometimes I am a little harsh, but I am also loving and compassionate. I help whenever it's asked and in the measure of my possibilities.
I wish I could turn back time and change some choices I made that are still affecting my body today (don't worry: I'd keep my baby girls LOL).
It's a hard wish today, really.