Remember my desperate call for help a month ago ? I killed my big art journal and had no idea how to re-bind it. I want again to thank you all for helping me and giving me so many awesome ideas !
I realized that I really enjoy TOUCHING my pages. Some have some really nice texture, and I like running my finger on it.
I didn't count exactly but the journal has more than 100 pages, so the idea of cutting paper, glueing it on every pages, doing new holes was overwhelming regarding the amount of time needed.
SO… the picture on your right is what my Journal was like most of its life. The inside of the spine was full of paint, I loved it like this. But what you don't see well is that there is a clear cover on front and back. And because I manipulated it A LOT, the back one started to become weaker and weaker until the day it just fell off the journal.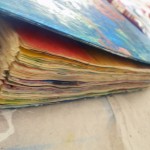 After thinking about it during nearly a whole month, I decided to go for the binder option. It's not pretty pretty, but I decorated the front cover (the most important to me, the rest can wait). The thing is I needed a big one (i chose a 2″ and smaller wouldn't have suited the thickness of all the pages).
As the holes were almost all intact, it was the best option I think. But before trying this, I simply tried to put three rings. I didn't like it. That's where the binder came. And this is why i call this journal the "Journal version 1.3" (I'm geeky sometimes).
Here are a few pictures, i'm quite happy with it but it's the only binder journal I want ;-). Click to enlarge the pictures: