Jo Anna Rothman is one of these chicas I can call "friend" even if we never met yet. She is an amazing healer, she is also an intuitive counselor & guide.
I met her I don't remember where (I think it's via Twitter, when I saw a retweet of her by someone I am following, and won a reading with her) but it was through her AMAZING project called The Receiving Project. It is totally free, it's a 32day project during which you commit to focus on what you are receiving. Seems weird ? Here is what Jo Anna explains about it:
"The Receiving Project is 32 day process designed to explore and enhance your ability to receive the multitude of gifts that life has to offer.
[…] Something amazing happens when people set the intention to receive gifts from The Universe. They become open to the magnificent presents that are all around them, everyday. They get into a groove where goodness flows. And most of all they have fun.
All you do is set the intention to receive a gift from the universe every day for 32 days. These gifts can come in any and every form. If you feel like it's a gift that you were able to receive, then it counts.
To support you in your process you will receive a twice weekly email newsletter. I am available via email for additional assistance."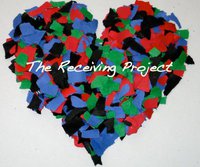 I participated in the project and it simply changed my life. It totally goes along my ritual Gratitude Friday, to focus on all the positive happening in my life instead of what the rocks on the road are.
Once you pay attention to the gifts you receive everyday (yes: every single day), you realize how full your life is. Of course, sometimes you wonder "is it real ?" and my answer is simple and quick: yes.
We tend to link "gift" with a physical thing someone offers to us. But it's not that narrowed. The inspiration you were waiting for is a gift, the sun on your face despite the fact the forecast's announcement of pouring rain is a gift, a dream telling you the message you needed to hear is a gift and so on.
The magic in the Receiving Project is that it opens you to receiving uncounsciously because you know you don't "ask too much" and that you deserve all of this.
32 days is perfect: neither too long nor too short (but I miss weekly emails by Jo Anna though).
She also runs a Healing Circle every month in the San Fernando Valley area (California) and one-on-one session as well.
Jo Anna is working hard on creating a fantastic new website and a 2.0 version of The Receiving Project !!!!!
Her website: Jo Anna Rothman
Learn more about The Receiving Project
Facebook page
And you know what ? I am giving away a one hour session (by phone, skype or messenger). Trust me: she is awesome.
The winner will be randomly chose (via random.org) on Monday October 11th. The giveaway is opened until Sunday 10th midnight Pacific Time.
Let me a comment to this post telling me what you feel you need to receive from the Universe right now.
Good luck everyone (i have two more things to giveaway…) !