Despite the fact that yesterday, I had both my girls with me at home all day long, I managed to both work in my beloved Art Journal AND to start a new artwork. It feels so GOOD !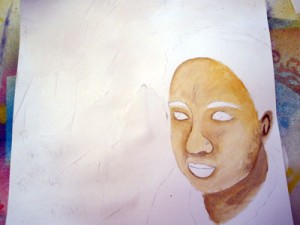 I printed a selfportrait I like, and transfered it on a 12×12 cardstock with what we call in french "papier calque". It looks like tracing paper but it has the particularity to transfer what we draw, in reverse. It very very useful and I don't find the same thing here. Or maybe tracing paper does so and I didn't know it ?! It would be totally possible 😉
I am practicing hard to get better at shading faces. I don't aim to draw/paint realistic faces, but still I WANT to get better at shading, to give some volume to my characters faces. And it's so damn hard. I don't know why I'm so struggling at this, i never know where to put shadows exactly. Maybe I should stick to one source of light and always do the same thing ?
I don't know what came in my mind when I decided to do a selfportrait mixed-media artwork, with my "real" metis colors instead of the shades of grey I usually do (after all, grey is kind of metis too uh ! lol). Whatever… I'm trying and if I don't like it, I'll do it again, and again, and again until I'm satisfied. I'm not affraid of making mistakes anymore. It's just hard to have this feeling of "I lost so much time for nothing !!!". I realised that it's not nothing, it's practice and experience.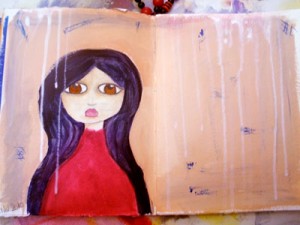 I have no idea where this journal page is going, it doesn't look like what I usually create at all !
I have a lot of work to do and I can't really say I like it. Wait and see what it will become.
I am in love with new colours ! Payne's grey is my favourite, it's a very dark blue awesome for shading any other colour; I love love love transparent red iron oxide and quinacridone nickel azo gold (I love the word "quinacridone" ;)) and of course cobalt teal and the new van dycke brown. And titan buff, and I am discovering all the possibilities of zinc white (which is a transparent white).
Today (Tuesday) I received two good news:
My illustration "Meant to shine" was featured in another group on RedBubble. I'm very proud. It is the illustration that means the most to me in my creative and spiritual life. I am very attached to it.
I received an email announcing me that I won an Affirmations Package worthing several hundred of dollars; it's not the carribean cruise but I'm doing the happy dance because the prize is just awesome ! It contains items that are on my to-buy-list for months, and even years.
You can't imagine how good it feels to be like me again. I realize that creating in all forms is really a part of me. And that I just can't deny it, even unconsciously.
I am digging in the suggestions people gave me regarding their own creative block solutions so I'm filling my universe with what inspires me: music, movies, images. It's just perfect at the moment.
This is why I want to share what pumps me up since last week, the new video and song by P!nk. She is an artist i really admire, I love her since "there you go" when she had this short bright pink haircut riding on a big motocycle. She dares to say out loud what she thinks. There is something that emanates from her that is just bright and light.
Come and raise your glass with me (and yes, I was "too school for cool" when I was younger lol). Cheers !

P!nk – Raise Your Glass (Official Music Video)
envoyé par ChaOko_01. – Regardez la dernière sélection musicale.