I need to clear my heart today… So I decided to share what I am loving right now with you.
I love reading what my fellow bloggers share in their "Inspiration" or "What I love" blogposts so I thought that regrouping what I do am exciting about could be great.
But don't forget, you can help me spread the word about my Etsy shop opening and win an handmade journal. Learn more about it here.
I am currently loving and excited about….:
Connie has gathered 21 fantastic artists to share their art journal secrets. It is the second round, the first one was awesome. You can learn from Goddess Leonie, Willowing, Lisa Wilson and so many more; the techniques and themes are very different from each other and cover a lot of areas. Exciting !!! Learn more about it: 21 secrets Spring 2011 edition.
PanPastels are soft easy to use pastels… I love them. I think they are becoming my favourite medium for shading faces. I have a lot to learn but I am loving it ! I will share soon the page in my Journal I started with them yesterday night.
Lindy Stamp Gang is now offering their awesome Starburst products in what they call «color shot». This is the same amazing ink doubled with amzing shimmers, but in a pot instead of with a sprayer. SO now, I can use them to paint. And this is gorgeous. I love their product so so much. It makes me happy and I want them all… they even make me like vintage-y brown colours, coupled with colours shimmers (they call this «MoonShadows» what a name !). And they treat us well by having sales very often during the year (they are currently having a 20% off everything for St Patrick day !). They also have amazing two-toned embossing powders, stamps etc. And you can buy seperately the caps to change your sprays into daubbers, crazy !
I started a new Art Journal yesterday night while the girls where already in bed and dear Husband was playing video games. The first page is not finished as I type this but will be today. I already love it. This is the journal I finally decided to play in: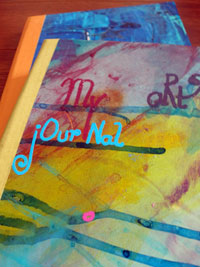 I am happy to read the big dreams shared on my opening shop comments.
We are FINALLY having a dry day in Vancouver, with some sunshine coming through the clouds.