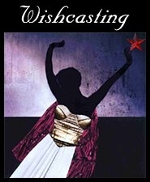 This week prompt by Jamie is dear to my heart.
I am one of those who feel like I never know enough. I am very curious, I love learning new stuff (in all areas of my life) and because of that I am pretty easily bored (not good).
This is also why I love books that much and got never enough of them 😉
I don't want to know everything. But I would love to have a domain of expertise someday.
Today, I wish I would know how to tap whenever I want in the Universal Source. For Love, for Answers, for Inspiration. I am learning to do so more easily.
I wish I would know how to be gentle and kind no matter what.
I wish I would know how to give more life into the girls I see in my mind and try to create in my paintings.
I wish I would know what to do to become what I am dreaming of.
There are so many things I wish I'd know…