I updated my Etsy shop with great pleasure. Not a lot of new stuff but three new prints are now available (more about that later in this blogpost).
I have a kind of fascination for shamanism for about ten years now; their way of seeing the World they live in, their culture, their rites… there is something calling my name with them. I remember when we first came in Vancouver in 2006 for our Honey Moon, it was the Native week with lots of celebrations; we attended a concert with traditional dances… we both had tears in our eyes. The sound of their voice, the beats of the drums resonating inside of me, it was a really powerful moment. It was then we know we belonged here. I dream of being part someday of a tradition ceremony.
People sometimes ask me: «why are all you girls white-ish, you are not ?» This is true. Caucasian skin is easier when you begin (in my opinion), so i want to be comfortable with it and then experience. All these girls I create are somehow a part of me, and I am not white (50% of me actually is), so I have to play around that. I love diversity and the idea of creating people from different ethnies warm my heart. I just need (a lot of) practice, and perseverence.
I am digging hard to figure out «what is missing». I am on a quest toward authenticity, sometimes I feel like I am going away from what makes my hear sing and it's like I am losing myself in my artistic Universe. There are so so so many things calling my name, I want to experience it all. But I have to accept to focus on one or two subjects at a time, commit to it and then doing something else. My lack of focus is killing me.
I am feeling out of place when it comes to the artistic community, seeing people becoming really good friends and then there is me. I never was at ease with people, fearing to be too different, too strange, not enough talented, not enough/too much this or that.  I decided stopping waiting for others' validation and as long as I love what I do, I keep going.
Creating for myself, what pleases me, what is whispered to me ears. And there maybe sharing it, but not in the aim of receiving whatever response could come. Letting go the affection (or the lack of affection) coming from extern people and focusing on what I do feel while creating and pushing paint over.
I refuse to force myself to write it so I am sure my stats won't fall down the rabbit hole. I refuse to talk just to talk; I wish to discuss what I want, when I want. It took me a very long time to come to this conclusion, I've learned it the hard way.
I also refuse to make you think life is like living in a pink bubble gum, because we all know this is fake. Even when we, like me, go head and heart and soul first in personal developpment and positive thinking, Life still happens and throws a huge fist in our face. And you have to get up, again, maybe you will have to fight too. I don't want to project an image of a me I am not, I don't want to be what some call «a troll», someone you meet in person and don't recognize because is the total opposite of what you've seen online. I want to be authentic. And if life is sending me lemon, I won't tell it's sweet. It is sour, that's it. I am not there to comfort you all the way, I am not the rock in the river; I can be, I actually am most of the time, but sometimes the current is too strong and I have to follow the flow of the river I live in. My artwork also reflects this. It can be light and fluffy but deep and dark too.
So… I said what I wanted to say, and I really hope I have not offended anyone because this was not the goal at all.
Here are the three new prints available in my shop. I really really like them three.
Canada Post is currently on strike and we have no idea when it will end… So I accept orders but know that unfortunately it cannot be shipped to you yet. If it lasts for too long, we'll cross the border and ship it from the US.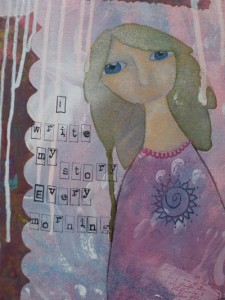 «My Story» is my way of remembering this small favorite ritual of mine: setting an intention for the day to come.
When I began this artwork, I had absolutely no idea what it will become. I already had the pink background (sometimes, colors are just calling me to be pushed on canvas, so I just listened.). I started to see the face, I love her soft confidence and the softness of it all.
Believe it or not, I am not a huge fan of pink (when I was pregnant of Grenouille, people used to tease me about being pregnant of a girl and me not liking pink at all. The idea of being surrounded by pink all over was making me crazy). I learned that sometimes, you just have to go through your a priori and try to overtake your limits. Today, I appreciate pink, even if it is in small amount at a time.
What if every morning, I decided with intent of the Life I wish to live ? Not thinking about yesterday, not worrying about what could happen or not happen tomorrow.
What if I decided to blindly trust The Universe, knowing that no matter what I will experience, it is for good, even in tests and in pain ?
And what if I finally decided to trust ME, every morning, knowing that every choices I will make during the day will be the right ones and that if I go sidetrack a bit, it is okay as long as I stay true to my values ?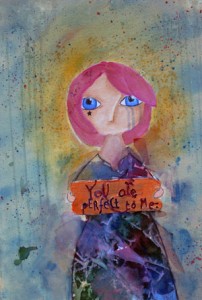 «Perfect». I already talked to you a bit about her right here.
She means a lot to me, she even has a name (which, to be honest, never happened before) 😉 Only a really small few people know her whole story (her=the girl you see on the painting, and the painting itself). Why ? Because it is very personal and I am not strong enough yet to tell the whole world about it. AND I love when people see things I don't in what I create. Every tiny detail has its importance, there is no coincidence in there (even if it happens intuitively and I tried not to overthink her). There is my heart and soul inside.
The original artwork is sitting on the dresser in front of our bed. This image is the first thing I usually see when I wake up and it is for me a good reminder that I am perfect how I am (still trying to improve though).
It is essential to me to be surrounded by art that fuels my soul, that ignites something deep. I can't wait for the day we'll have enough money so I can buy artwork from artists I admire
This painting is a reminder of where I am coming from and where I am going.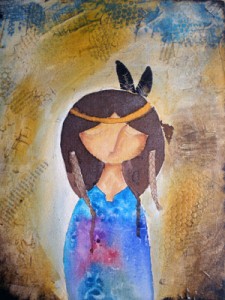 «Ya'at'eeh» Until the end of last week, this painting was untitled. It is a re-work of a journal spread I created, I loved it so much I knew she had to get out of the pages.
These earthy tones were crying to be there. I am a lot into browns lately so don't be surprised to see more brown in my future.
The title is a Navajo greeting meaning «Everything you are, everything that is a part of you, is good, is beautiful.»
It came accross my path thanks to the shiny Jamie Ridler in a blogpost she published recently. It was just what I was waiting for, perfect for this artwork. There is no such thing as coincidence.
As I was telling in the beginning of this post, I am practicing darker skin tones. I LOVE using PanPastels for the skin of my girls, it is smooth, I can easily overcome mistakes… I'll try with paint later.
I am over the moon with creating braids in the hair of my characters; I found an easy peasy way to do it and love the result. Having lots of fun.
The first two prints of this canvas are untitled as the original is wordless, but it will appear in the next versions.
I hope life is currently sweet with you. Be sure that storms are not there forever.