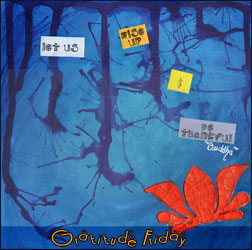 Gratitude Friday is a weekly ritual I started in order to focus on all the small and big positive things that happened during my week. I invite you to join me, you'll see how much being thankful can change your life. If you want to know more about it, read my introduction post.
Hello !
Today is a weird day. I was diagnosed this morning with fibromyalgia; many of you are familiar with it and having a lot (!!!) of art friends suffering and dealing with it is what rang a bell a few months ago for me, today just makes it official. My doc tested the trigger points and 16 out of the 18 points were hurting like Hell, so there is no place for doubt.
This week, I am grateful for:
Knowing I was not inventing the pain and the fatigue and everything else. And having meds to help, hoping it will actually help.
The support on Facebook regarding my diagnosis is just amazing. Thank you to all of you.
We are planning a few days vacation in Seattle area for next week. My husband was able to switch the August 1st holiday with the next monday so we will have 5 days together. On friday i will be attending Teesha Moore's art journaling class, along with Kym from blissatworks and Violette Clark (i will meet both for the first time).
Art is my best therapy. It is like when creating, the pain is more deaf. It does not make it go away but it soothes.
I sold another original painting, one i am really proud of. It is "Your Soul Song", I made a video of it right there.
I will be doing mail art, which will be a first time. I have a lot of stupid questions raging in my mind about it but it will be fun and i am excited to receive some beautiful art from around the world. Thanks Nessa for organizing it at first.
I was asked to be part of what will be an amazing project. Writing my bio stresses me a little bit though.
I received my art supplies orders from Lindy Stamp Gang (where i had a pretty big discount) and Art from the heart, and nothing makes me more happy than new art supplie (or not a lot of things lol).
My mom will arrive in less than 3 months now and I can't wait to crawl in her arms for a real big hug.
I finally love posting my pictures on flickR and the comments I get there. I was not that into it before.
I finally dared to ask The Universe to guide me toward my $100,000 idea. For me, asking for it is like a HUGE step forward. It is not money to get rich, it is money to finally own OUR home.
I am learning to listen to my body. As I was telling to a friend, this is like pregnancy in the way i am learning stuff about my body I could not have known without this specific moment 😉
If you wrote your Gratitude Friday on your blog, don't forget to enter your NAME and URL below so I'm notified and can come to read you (you can also join by commenting this post):
[linkme]