Hello !
I am sorry for not posting a Gratitude Friday today. I got out of bed less than 30mn ago, I was forced to stay there until the strong headache and nausea that stroke me went away.
This blogpost will be shorter than usual, but if you have any question, don't be shy and leave me a comment I'll answer with pleasure (here or on the YouTube video itself).
Last Wednesday, I just wanted to record a painting from start to finish. Not knowing what. It is a simple mixed media artwork on a 8″x10″ canvas board. I used my favourite media:
acrylic paint
PanPastels with embossing ink
Color Shots
I think I finally pinpointed what was missing in my faces and how to give them more depth and character. Do you perceive any difference ? I do.
Here is the video (with a special guest appearance):
A short step by step of my process:
First of all, I applied acrylic paint with my brayer. A quick and easy way to get the color on with great texture.
I found it was to bright so I added white with my hand *blissful*. I allowed me not to have a color that was too flat.
I first perceived the hair on the left, this is where I started sketching with my graphite pencil, then the rest of the face appeared easily from itself. I realized I just need to see a face feature and then go from there. I go over with a watersoluble graphite (my charcoal pencil seems to be dead).
I painted the face with acrylic paint and the watersoluble graphite (blessed be the person who invented this !).
Then, I stamped a rubber stamp with clear embossing ink in the hair area. This is only when you go over it with the PanPastels that you can see it. As my Grenouille said: «WOOOOOW this is magical !» 😉
The cloth is colored thanks to Lindy Stamp Gang's color shot. It is a pigment bomb loaded with beautiful shimmer. I thought it was too pronounced so I put a tissue paper on top of it while still very wet, and it created a beautiful texture (look closer to your tissue paper, it is not flat at all).
The background looked too present for me, so I went over with Zinc White fluid acrylic. I love this color as it is not opaque as Titanium White is.
I did the eyes and then finished the painting by writing my thoughts with my nib pen and ink (old school way). It says «Being creative is not about making pretty things but more about listening to the Song of your Soul.»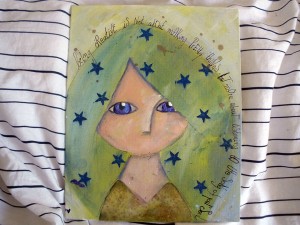 This is also my participation to day #6 of Traci's «Get your art ON» challenge 😉
This artwork is for sale, email me if you are interested (there is the contact info in the right column =====>)