Hello Shiny you !
I am back from our first real vacations. It was short, it was nearby, but it was really cool !
We arrived in Seattle on the Thursday, and came back home Sunday night. You won't be interested in all the awesome things we did, but may be curious about the day I spent at the ArtFest Annex, the creative home of Teesha and Tracy Moore.
Here are some of the journals made by Tracy (click to enlarge):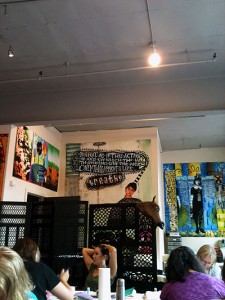 I would have never thought of attending a workshop with Teesha… It seemed too big to be true. But it happened ! So this is my little sign that everything is possible…
I was kind of nervous to go, but it went so smoothly thanks to Kym (from Blissartworks) and Violette (who also came all the way from BC). Thanks ladies, it was wonderful to meet you in person, finally (click on the links to see what they both have to say about this workshop). These two women are just very fantastic. I am so happy I talked about the workshop on Twitter, where Kym found out about it. And then she enrolled Violette to sign up too 😀
The annex is located in the historical part of Seattle, called Pioneer Square. As we arrived with about 30mn to spare, we wandered around. It is a really beautiful place. With a lot of artistic creations, like sculptures etc. This is also where you can start the Underground Tour of the city. The line up was huge, even if it was pretty early in the day.
First of all, the annex is an inspiration all by itself. Filled with Tracy's amazing journals, Teesha's HUGE reproductions on the walls… (click to enlarge).
We were about 20-25 ladies, from all over the US and two of us from Canada. Some were already friends from JournalFest or other retreat organized by Teesha.
The workshop was a mix of creativity via art journaling and self-development thanks to the power of attraction. Teesha guided us with some exercises from the book «The amazing power of deliberate intent» by Abraham-Hicks and of course explained us her journaling process step by step. With some tidbits from her experience and her personal life.
It resonated A LOT with me. Some of the things were stuff I already do, or know.
We all created a small journal (the final size is about 5″x5″) to reflect our Intentions for our life. This was totally out of my comfort zone. Because even if I am an art journaler, I am not using collage. Not that I don't like collage, I just never know where to find elements to use, how to create something coherent etc. I won't say I like the journal that is coming up from this, because it doesn't feel… me. But I so loved the vibe, learning new stuff. Maybe if I had great images to play with, I would do it more often in my own journal.
This is a work in progress, I will go back here and there.
So now… time for a little book giveaway. YAAAAAAAAAAAAAAAAAAAAAAY !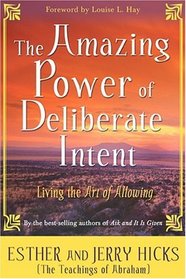 As i told before, Teesha used this book from Esther Hicks called «The amazing power of deliberate intent». I bought one copy while in Seattle, but already had it home (yes, I know…). But there is a reason for everything ! Maybe you, the lucky winner, were just meant to get this book to help you. It is filled with exercises and explanations. Very easy to understand.
Please, do enter the giveaway only if you are sure to want the book. To enter, leave me a comment telling me what is currently inspiring you. It can be someone, something…whatever it is 🙂
It will end on Monday August 15th, midnight Pacific time.