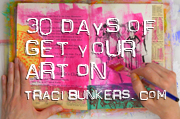 Here is what I've done for the second day of "Get Your Art ON".
I don't know Julie Fei-Fan Balzer and her art for a long time but kind of immediately fell in love with her style. I am not a scrapbooker, she is mainly one, but she does apply a lot of mixed media in it and is an avid Art Journaler as well. She recently launched a stencils line with The Crafter's Workshop and this is exactly what I like (Henna hands anyone ? :D). So I went on a hunt for the ones I really love and got some in the both 12×12 and 6×6 size.
On her blog, Julie recently showcased the stencil above, called "Fragmented Flower"). I really loved her stencils-over-stencil idea, that you can easily achieve with this specific stencil because of all the great more or less big portions.
This idea was a must-try in my mind (and it meshed another one I will have to try as soon as possible, that shoul be as fun, if not even more !!!).
So here is my result; I began by tracing the stencil with a fine point permanent pen (I taped the stencil to my page for the all process), then i layered smaller stencil where I wanted it to be and used either ink or PanPastel: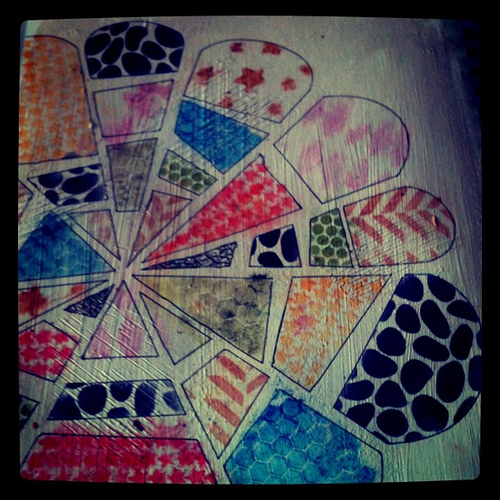 You can't see it because I took the picture before, but it looked unfinished to me so I dripped airbrush white paint on the right upper side and then sprayed some "Love At First Sight" Starburst by Lindy Stamp Gang.
It still feels like it needs something more, like journaling. It will come later 🙂