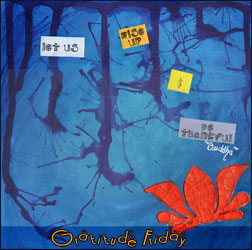 Gratitude Friday is a weekly ritual I started in order to focus on all the small and big positive things that happened during my week. I invite you to join me, you'll see how much being thankful can change your life. If you want to know more about it, read my introduction post.
Hello !
Next Monday will be Thanksgiving here in Canada. The girls won't be at school, my husband will be off work too. A long week-end ahead. And I am pretty excited about this one, to be honest. I would love to gather around me friends and close family but unfortunately it is not possible. But we decided to start our first familial Thanksgiving traditions this year. YAAAAY.
And this is perfect with this Gratitude Friday ritual. I hope you will join me and share some things you are grateful for in this period of the year.
I am thankful for:
My Mamounette (aka Mom). Always there, always strong. One of the pillars of my life I would crumble without.
My half, my Cheridoo. Despite his obvious lack of subtility (that is sometimes hurful when he speaks his truth without any embellishments around), his love is what keeps me strong and helps me to still stand.
My daughters, who love me no matter what. Their hugs and moments of pure bliss and craziness.
Having been put on the road of my Reiki teacher and her academy when I needed it the most, she teaches a different kind of Reiki (but also the original Usui one) but it is also very powerful (and WAY easier). I am now a Practical Reiki Master (I still have some assignments before receiving my certificate though). I am healing, physically and spiritually, and I feel useful by giving back to the ones who ask me. And I know this is just the beginning. Contact me if you want more info, I would love to share about my experience.
My family doctor. The contact was hard at first but I am now happy she is following me. She does not think I am crazy, she listens and helps the more she can.
Jamie Ridler's opportunity she gave me to be in her Circe's Circle. It helped a lot with my project, and I met amazing women.
Anu, just for the amazing she she is. For our daily discussions, for her humour, for listening to me without judging. Just because I love her. A lot.
The Universe and the messages I get when I am in creative state. This source of inspiration I am tapping in. The certitude that despite the strangeness and apparent simplicity of my artwork, this is partially what I am meant to do here.
Connie who gently pushed me to open my Etsy shop, and supported me. Helped me unfolding my wings so I could fly free. My customers and their positive feedbacks.
The lost friends, the ones who came back without explanation why they left me there, the ordeals put on my path.
Teesha Moore's workshop. ANd I thank in advance for FLora Bowley's workshop in Teesha's artfest annex next month.
The possibility I have to explore my Darkness in order to appreciate how bright my Light can be.
My sewing machine, that I am still learning to use, and the things I create thanks to it (plushes, fabric art journals I love).
My Art Journals, that keep me sane.
The support from other artists, and from other women also struggling with fibromyalgia. Community is important to me.
My husband's work, despite the times I hate it because it keeps him away from me and that sometimes it feels like he is working 24/7, it gives us a lot.
My friends, old and new. I send the wish to the Universe to please send me friends in Vancouver. I would love some girls night, without boy or kids. (Melissa, I have to message you).
My selfportrait project that I started back in March this year. I document my daily life in picture without words. And I see me differently.
People met thanks to the Reiki Awakening Academy, where I got my certification.
People who participate in the weekly ritual, even the ones who do it once a month, or less. I love reading their own Gratitude Friday or just knowing they do it privately.
This come back to a more spiritual life, the reintegration of rituals (not necessarily in a witchy kinda way).
The good food I cook and put in my belly. Yes Anu, even the Nutella.
Art supplies. My drug, and the brands I discovered this year (Lindy Stamp Gang, Dylusions, Crafter's Workshop et j'en passe), it just makes me happy to get new art supply. See a kid in a candy store ? or a kid on Christmas morning ? yep, i am a mix of both at the same time !
Books I surround myself with and that make me enter new universes.
The chance I have to live in a city I actually chose, and where I am not by obligation.
Life sometimes sucks. But it can also be put in a different perspective. Thank you for all I am living every single second. Thank you.
If you wrote your Gratitude Friday on your blog, don't forget to enter your NAME and URL below so I'm notified and can come to read you (you can also join by commenting this post):
[linkme]