Hello !
I have been thinking hard about this idea that blossomed a few weeks ago on an early morning car ride.
I asked a ofew of my close friends and family members and they all agree I should reaolly propose it.
I am announcing the Nixies' subscriptions. YAAAAAAAAAAAAAY.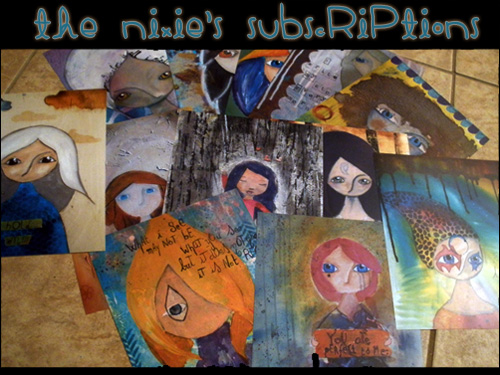 What is it ? It is simple: you can sign up to receive a Nixie print (8×10″) at a determined lapse of time (there are three packs available for you to choose) during 12 months, 6 or 3 months.
Maybe it will be clearer if I explain to you the different packs:
Nixies's Wonderland Pack
12 prints of my choice (once a month during a year)
Price: $199/year
Nixies Fan Pack
6 prints of my choice (one print every other month during a year)
Price: $ 99/year
Nixies Love Pack
3 prints of my choice (one print every four months)
Price: $49/year
And it includes the shipping, no matter where you are in the World. Sounds good, doesn't it ?
I will choose randomly between the newest prints available, shipping them to you around the 15th of each month.
I think that Art is something we should surround ourselves with but that it can easily be very expensive. I see my subscriptions as an investment you could make for your well-being because my Nixies make you feel good inside, the little something that pleases you every month or so. I know it can seem like a lot of money because it is big numbers, but if you put them out a bit, I sell my prints $16 each + shipping, which makes each print at least $20; for the Wonderland pack it would cost $240 for 12 prints so it's like you have 2 prints free in the pack. Does it make sense ?
And of course, we can arrange payments if you need for the Wonderland and the Fan packs.
↦ And because I think it would make a great gift, if you sign up for one subscription AND another one for a friend at the same time, hers/his will be 25% off (for a pack of the same value or less).