This is a question that comes a lot to me lately. It has always popped now and then but it's been in the back of my mind for a while now so I guess it's time for me to acknowledge it and dig (I usually proceed this way ;)).
Am I what I paint ?
Am I what I create?
Am I what I think?
Am I what I feel ?
I don't think I hold the answer yet because sometimes it bends toward a "of course I am what I create" and others I absolutely want the answer to be a "no".
There is a part of me in every single thing that comes from me, and this is obvious. I used to be a very pessimistic teen/young adult; always seeing what could go wrong first and focusing on that instead of trying to shift it. It is who I was and I don't deny it. It occasionally still shows through my art in my journals.
My universe is filled with strange creatures and characters having a life of their own. Tim Burton captures very well what it looks like in my mind most of the time. But my Universe is also filled with colors and shapes and symbols that are way brighter.
Paradoxical ? Of course. I guess it's not a coincidence I was born under the astral sign of the Virgo, which is a very double-sided sign.
Sometimes, I am doing something and suddenly I feel like I have just been punched in the stomach and can't breathe anymore, and all the negativity I felt in my past comes back in, in a rush. And it hurts like Hell. All the fears and worries I constantly push away decide to hit me in the face. Journaling and painting helps me to make it go away.
I used to fight this darker side of me until I realized it was totally vain and that the best solution was to accept it (yes, it all goes back to acceptance again). Creativity is the only way I found to be helpful, even on the long term.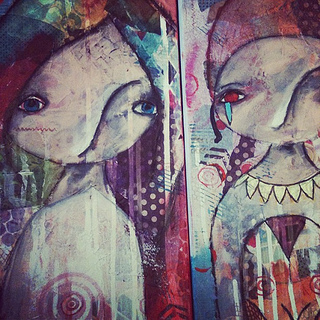 This blogpost makes no sense and I apologize for this. I guess I just have to work this through and thought sharing it with you might help. Please, feel free to tell me what you think.
Are you totally dettached from what you create ? Do you think you are what you paint and you paint what you are ?