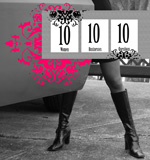 I really hope you were inspired by all these questions about running a creative business from us, 10 different women with different media of choice, experience and backgrounds.
It's so amazing to notice how we all see success differently for example.
Speaking of it, you can find all the ten answers to the question that was on my blog (Success in business is…) right here.
I advise you to go on the blog to see all the other questions (about collaboration, about struggle, about hope… and so much more !), just here.
Robin will be running two other sessions with other Flying Lessons alumni (and she has some really cool stuff in her sleeves about this project). Can't wait to learn from them, the next round will begin soon in a month: June 15 !
You can already meet the participants and find out the new questions.
If you missed some of the soulful goodness that has been shared, make sure and head over to the blog the holds ALL THE DETAILS on the project: CLICK HERE