I am expending myself creatively and recently opened the door to commissioned paintings (official annoucement and details coming this week).
I am currently working on two paintings for a very dear customer, each one has a story, a character on her own. I love that ! I try to stay myself (this is why you order a custom painting at the first place, because you want a piece of the artist for you, just for you, no ?) but be true to what my client wants. Not always to combine the two, especially when it is the first time (or well… the second time in my case).
Here is a pick of my studio, just before I started working.
I love the candles made by the shop ZenaMoon and often light the one that I feel connected to at the moment, I put my iPod to play randomly my playlist, do some Reiki, a prayer and start (I can't believe I am sharing that !).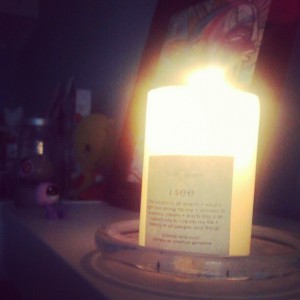 And then I really wanted to start my studio session by a short stamp carving… I am not very good at it, I guess it will come with practice (and my stamp carving tool does not have fine small tip…).
I was frustrated so I end up not doing as much as I had in mind, but that's totally find. I don't mind much, I did it for fun and because it was on my mind for weeks (!!).