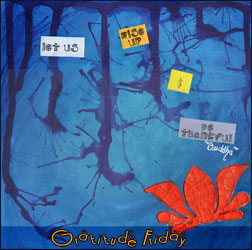 Gratitude Friday is a weekly ritual I started in order to focus on all the small and big positive things that happened during my week. I invite you to join me, you'll see how much being thankful can change your life. If you want to know more about it, read my introduction post.
Hello dear Souls !
I wish a happy Thanksgiving long week-end to those of you in the US. I guess today is the perfect time to reflect on what you are thankful for right now.
I hope to read your Gratitude Friday, would love for you to share.
This week, I am thankful for:
My neighbors.
My husband, always reminding me where my limits are so I don't end up filled with regrets because I pushed them too much.
My customers.
Music. Still.
My mom. She joined a group in her city to learn English. Because she wants to be more comfortable when she comes here. I am very grateful she is doing it, for her and for us. See, it is never too late (she is 61).
Food in our belly. The joy of transformation, of bringing it to the table, to hear «this is delicious Honey/Mama».
Our house that feels more and more like home to me. It was not totally it, even if we moved in in April.
Virginia from Princeton Brush.
Other artists and the inspiration they bring in my own creative life.
The «ahah» moments happening in the studio, when a painting falls into places.
If you wrote your Gratitude Friday on your blog, don't forget to enter your NAME and URL below so I'm notified and can come to read you (you can also join by commenting this post):
[linkme]