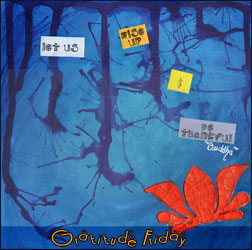 Gratitude Friday is a weekly ritual I started in order to focus on all the small and big positive things that happened during my week. I invite you to join me, you'll see how much being thankful can change your life. If you want to know more about it, read my introduction post.
Hello beautifuls !
This week is coming to an end and I have to admit I am happy to see the week-end arriving.
I have too much to do today, so I apologize for making it short. But I really want to encourage you to stop for a few minutes so you can reflect on your week and seek for what was positive, what were the lessons learned, the joyful moments.
This week, I am thankful for:
Morning green smoothies. They easily contribute to my fruit/greens/fiber/protein intake of the day. They fill me up in the morning so I am not starving anymore when lunch comes (=less hungry equals to smaller portions).

My Studio Buddy (and next door neighbor), Em. Having her in my studio with me makes quite the difference.
Sleep. Rest.
Tv Shows (finally started watching Revenge, and we're now on Season 4 of our «watch it again» Supernatural marathon).
Packing orders that go to new homes all over the globe.
Watched «A Series of Unfortunate Events» with my girls yesterday and loved it. And so much inspiration (come on… Violet's style is gorgeous !). I want to read the books (will check our library. when I'll have lowered the pile of books already started on my nightstand, though).
This deep feeling of going on the right road (in life, in my spirituality, creatively).
I will be a guest artist in the upcoming class «Behind the art» from Christy Tomlinson (read more about it on her blog).
The absence of rain. And the warm (at least, I should say «not too cold») days.
My dear Halfling's work party, theme was Casino Royal. I found a beautiful (but cheap) dress that I can wear again, and high flat boots. It was fun. Thank you to our neighbors who made it all possible.
My floating headache did not tranform into a migraine.
Please, don't be afraid to share your list. It does not have to be filled with huge profound items 🙂
If you wrote your Gratitude Friday on your blog, don't forget to enter your NAME and URL below so I'm notified and can come to read you (you can also join by commenting this post):
[linkme]