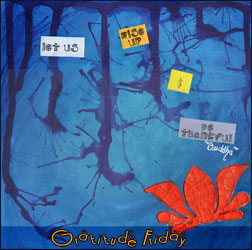 Gratitude Friday is a weekly ritual I started in order to focus on all the small and big positive things that happened during my week. I invite you to join me, you'll see how much being thankful can change your life. If you want to know more about it, read my introduction post.
Hello you !
Welcome February… January brought me its lot of amazingness but did not forget to sprinkle it with more or less big obstacles as well. That's okay, growing and learning through it. I guess my biggest lesson this past month was to trust. It is one of my biggest Life Lessons, forcing me to stretch.
This week, I am thankful for:
My Mom's good results (she had her cancer check up today and we were a bit concerned about some blood test results, but it's all good !)

My Husband, and my girls. They teach me a lot.
Smoothies and healthy food. I feel better in my own skin, and lose weight along the way (which is needed).
My newest Nixie, Fae. There is a special bond between her and me.
Chaneling the message I sure needed. Maybe you do too ?
Decisions to find the time for just us, my husband and I. We need it badly.
Our neighbors. Game night tonight (ice hockey it is, rules I need to learn).
Koala's drawings keep blowing me away for a nearly 6yo.
Grenouille is doing good at school.
«Miss Peregrine's home for peculiar children» by Ransom Riggs. This book is keeping me mesmerized, and I love when a book gives me that happiness (and I learned that it will become a movie. Directed by Tim Burton. Oh yea !).
Feeling inspired. I want to try new techniques. New styles even. Just to see.
What about you ?
If you wrote your Gratitude Friday on your blog, don't forget to enter your NAME and URL below so I'm notified and can come to read you (you can also join by commenting this post):
[linkme]