I know we are not Monday, but I was not sure if I wanted to do a video or pictures. I am pretty sure a video would somehow have been easier eventually, but I prefered to go with pics this time, even if I have a whole 5 weeks to share with you 🙂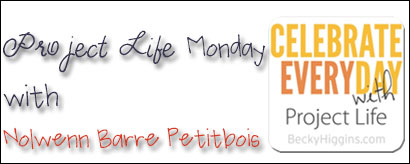 Some parts still need my journaling, and some filler cards are missing here and there for now. But I am okay with it.
I followed my guts when my intuition told me «it's okay to cut the photo page so it'd meet your needs», even if it kinda scare me at first. I am happy I did !
I used mostly the Design A photo page (4 landscape oriented 6×4″ + 4 portrait oriented 3×4 spots). But I also used a Design I that is 3 4×4 spots for my Instagram pictures (I think I will use the Design E that is 4 squares 6×6″).
To print these squares photos, I do a 12×12! collage in Photoshop and get it printed at Costco.
What worked for me in January:
Working weekly. It helps me not feeling overwhelmed. I guess this is my Virgo brain that likes easy and organized.

Using both bought products and some I made myself.
Using Marcy Penner's organizing sheets. It helps me to jot down what happened with the date, as my memory is sometimes lacking thanks to the fibro fog.
Following my Inner Voice and customize what was already existing but not working for me.
Taking deep breaths to make it work.
Using pictures taken with my Nikon D500 AND pictures taken with my phone. Emailing me the photos from my phone to have them on my computer.
What I would like to improve:
I'd like it to be a bit more crafty. But it means spending even more time on it.
Stop emailing myself the photos, and simply plug my phone on it (duh !).
My use of memorabilia.
Having the rest of the family invested in the process.
What I used:
I am pretty sure I forgot some stuff but as I go in my stash for this and that, I'm not surprised.
Because of the amount of photos in this blogpost, I decided to put them in a «Gallery»: just click on the thumbnail to enlarge it. It is chronologically ordered.
Project Life is a memory keeping system initiated by Becky Higgins. This is how I decided to keep track of our family life.
If you live outside the US, you can order Project Life items on Scrapbooker's Inner Circle.
You can find all my Project Life oriented blogposts right here.