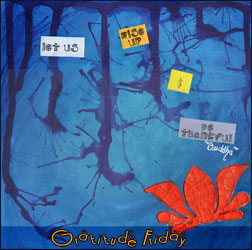 Gratitude Friday is a weekly ritual I started in order to focus on all the small and big positive things that happened during my week. I invite you to join me, you'll see how much being thankful can change your life. If you want to know more about it, read my introduction post.
Happy Friday !
What a roller coaster of a week this has been…
This is what this weekly ritual really is for me: a time to ponder the negative in order to let it be outshined by the positive. Knowing that yes, it is there, but that it does not have to be what matters the most or what takes the largest place in my mind and in my heart.
I feel truly blessed. Like this inner knowing that everything is there for a reason.
This week, I am thankful for:
Great heartfelt talks.
Mom arrives in 5 days.
We did arrange the guest room for her, even if the walls do need some color paint (they're white).
I received a fantastic and totally unexpected gift that made me cry of Gratitude
FaceTime dates.
It's the week-end.
I'm still losing weight, bit by bit.
Listening to the crazy talks. That leads me to more acceptance.
The book «The Night Circus» by Erin Morgensten. Listening to the audiobook on my iPad while painting.
Zopiclone pills.
Good health insurance coverage.
Living close enough from the US border so it's easy to cross it to receive parcels.
Pep talks, encouragement. Knowing that they were exactly the answer to my prayers.
Never giving up.
What is on your Gratitude List this week ?
If you wrote your Gratitude Friday on your blog, don't forget to enter your NAME and URL below so I'm notified and can come to read you (you can also join by commenting this post): [linkme]