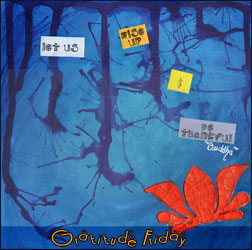 Gratitude Friday is a weekly ritual I started in order to focus on all the small and big positive things that happened during my week. I invite you to join me, you'll see how much being thankful can change your life. If you want to know more about it, read my introduction post.
It's Friday !
I am taking some time this morning while Mom is getting ready for our day. The girls are back to school today (we made them miss yesterday), Cheridoo is at work, so it's our first day just the two of us. Lots of plans 😉
I hope you're having a good week, and counting your blessings. I know I insist, but it is important to me to also see the little moments, they are as essential as the bigger and more obvious ones. I hope you'll take some time today to make your list, even just a simple mental list.
This week, I am thankful for:
Mom is here from France, leaving in July.
We planned our meals for until the end of next week.
Grenouille, who told me what she wishes for me. She touched me deeply with her honesty.
The professional opportunities. Explorations.
Music.
The Polaroid Supercolor 635 that my Mom brought with her. It belonged to my Grandpa and it's still working, but I need to find some films now.
The painting I created this week for Christy Tomlinson's class «Behind The Art», out of my comfort zone but I totally love what came out.
Friends.
Dreaming with friends. Opening doors of new possibilities.
Trust
I'm wishing you a wonderful week-end.
If you wrote your Gratitude Friday on your blog, don't forget to enter your NAME and URL below so I'm notified and can come to read you (you can also join by commenting this post): [linkme]