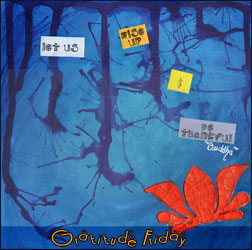 Gratitude Friday is a weekly ritual I started in order to focus on all the small and big positive things that happened during my week. I invite you to join me, you'll see how much being thankful can change your life. If you want to know more about it, read my introduction post.
Hello !
I hope everything is well in your part of the World.
Spring seems to finally be there in our North West coast, and I cross my fingers the beautiful sunshiny days will last for a while (here… you never know).
This week, I am thankful for:
Feeling the sun warming my skin.

Our neighbors kindness.
Kids.
The art I create.
The love of making new videos to share.
Walks.
Laughter.
Game nights with Cheridoo and Mom, and the days we can squeeze a game with the girls before they go to bed too.
Speedbumps currently being installed in our complex so we will have a safer place again for our kids to play outside.
Witnessing artists I feel connected to taking brave steps toward their dreams and their purpose (heard about Danielle Daniel new stuff ??).
Knowing my friends are in a good place in their lives, or doing what they can to get there.
Working in an area I am deeply passionate about.
If you wrote your Gratitude Friday on your blog, don't forget to enter your NAME and URL below so I'm notified and can come to read you (you can also join by commenting this post):
[linkme]