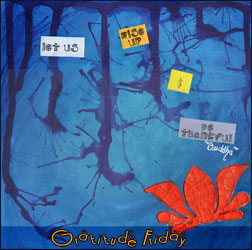 Gratitude Friday is a weekly ritual I started in order to focus on all the small and big positive things that happened during my week. I invite you to join me, you'll see how much being thankful can change your life. If you want to know more about it, read my introduction post.
Hello Hello !
Finally Friday… I hope all is well in your part of the World and that this general flu-ish virus that seems to be going on all over the planet left you alone. It is crazy how sick people have been since the beginning of the year and how long it takes to finally get back to «normal».
I am, as often in these moments, filling my heart with what is actually good and working, when everything else seems to fail. Gratitude is kind of my own savior (you know, so I can keep some sanity).
This week, I am thankful for:
Desserts made in my Multi-Délices yogurt maker (birthday present my Mom brought with her for me).

Skype with family.
Making art.
Creative experimentations.
Finally taking the plunge, working on something I've been wanting to do but was to afraid to get to it.
Walking again.
My girls trust and perseverence: they now know how to use their bike without their training wheels (and so… we can't stop them !).
My neighbors.
Music.
This chinese syrup I bought for cough etc.
Knowing I will succeed in my weight loss efforts.
Fresh homemade food (bread. yogurts. pizza. everything).
What's on your Gratitude List this week ?
If you wrote your Gratitude Friday on your blog, don't forget to enter your NAME and URL below so I'm notified and can come to read you (you can also join by commenting this post):
[linkme]