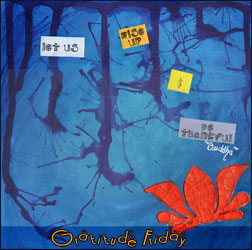 Gratitude Friday is a weekly ritual I started in order to focus on all the small and big positive things that happened during my week. I invite you to join me, you'll see how much being thankful can change your life. If you want to know more about it, read my introduction post.
Hola !
Today, I just wanna make it short and sweet. Because I feel like I have not much to say better than what I've already said lately 🙂
This week, I am thankful for:
Morning walks with Mom

The joy of receiving monthly kits from Studio Calico
My Gelli Plate and all I create with it
Lunches (and sometimes dinners) taken on our balcony
Snuggles & cuddles
The warmth from the Sun
Feeling better (not 100% back yet but better)
Taking actions
The Love from my close family
My Multi-Délices yogurt (and much more) maker
«What's app» that allows me to text with my bestie
Facetime that allows me to chat face to face with my Soul Sister
Advices given in such a kind way
Game nights with Cheridoo and Mom once the girls are in bed (we play Life and have lots of fun :D)
My Mom's understanding and her not being judgmental
I feel filled with joy and a sense of accomplishment. I am finally taking actions for Inner Voices/Inner Worlds, I can't be seen if I don't put myself out there. I know my messages have people waiting for them somewhere, I just know it. We need to find each other 🙂
Tell me, what is on your weekly list ?
If you wrote your Gratitude Friday on your blog, don't forget to enter your NAME and URL below so I'm notified and can come to read you (you can also join by commenting this post):
[linkme]