… I've noticed recently how some things, like growing our own garden for the real first time for example, inspire me more than I would have thought. I discover the cycle of a fruit, knowing I forgot along the years that a fruit actually comes from the heart of a flower. Watching it everyday (sometimes twice a day, oops) their development, as if I was the same age as my daughters again. The pleasure of picking a beautiful ripe strawberry we cared for. YUM !
… Animals. I am working on a project that involves lots of different animals. And as I am not a drawer, I spend lots of time sketching, watching, analyzing them.
2 days ago, these two Bald Eagles were in our cedar trees. Apparently, they were mating. I've never heard their songs before. It was amazing.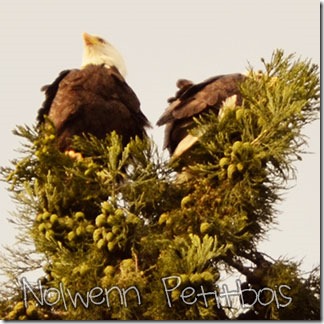 … Other artists work. I recently came across Michelle Allen's blogpost in which she shared her beautiful repurposed tool bag as a caddy to use when going elsewhere to paint and create. What she did is, for me, mind blowing. I could not get it out of my mind… This is why we went to Home Depot in order to find one I could repurpose. I found one that was black and red. Blergh. But I spray painted it white *and lime green when I ran out of the white can* to have a new base to start from. I'm not done yet, but I really look forward to what it will look like when done. Going with the flow, from the words that come while painting, from the images I see emerging while pushing the paint around. It is a lot of fun to do something different !
I will use it at Sugar & Spice in two weeks. Will be easier to move my art supplies from the hotel to the class room where the retreat will happen. I hope I'll be able to fit everything in 😉
I'm stopping at three for today or we'd be here for ever. I think that we truly can find inspiration all around, especially in places and moments we would not expect it to strike !
What are you inspired by right now ?