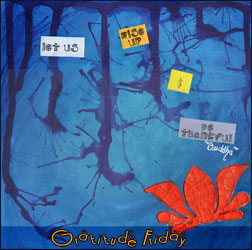 Gratitude Friday is a weekly ritual I started in order to focus on all the small and big positive things that happened during my week. I invite you to join me, you'll see how much being thankful can change your life. If you want to know more about it, read my introduction post.
Hello !
Summer is officially here, Loves. My girls are out from school for two months. It is both exciting and scaring for me (this is another story…) but we will make the best of it.
I received lots of bad news coming from family and friends, regarding their health this week. It is scary. My heart keeps them close.
This week, I am thankful for:
People who believe in me. In my art.
No morning rush for the next two months.
Working on my new website/blog.
I won an amazing bag from Allen Design, which I love.
I am in pain, but I am alive.
Good news from a long time friend.
I got a name for my new serie of work, still not sure but we'll see.
Acceptance (it does not mean resignation).
Criminal Minds (we're starting season 3).
Our neighbors.
Losing weight, I don't know how but eh, I take it !
New projects.
My Spirituality. My Faith. Acceptance, again.
Words.
Self-portraiture.
*sigh* Sometimes, it is a real exercise to turn our head slightly so we don't freak out by what is happening around us, or in our lives. But by doing it again and again, then it becomes a survival tool.
What fills your gratitude list this week ?
If you wrote your Gratitude Friday on your blog, don't forget to enter your NAME and URL below so I'm notified and can come to read you (you can also join by commenting this post): [linkme]