I know… it's been almost two weeks since I published something here. A lot happened but I promise I will get more steady in my publishing 🙂
As a kid, I hated summer break. My Mom did her best to allow me great experiences and to avoid to be bored (remember, I'm an only child), I often was on summer camp (even if I am not sure it is the same in France than here in North America; in France it is a day by day thing). But I remember feeling two months was too long. Loneliness often. However, this is also when my hands got the most busy: painting outside my grandparents' house on that tiny pink table; coloring salt to create landscapes in glass jars; making friendship bracelets; adding color in my hair by wrapping strands in embrodery thread (always chosing yellow+red+green+black for some reasons…); inventing stories around animals.
So I am thankful for these Summer breaks and my heart is tender when I think about it now.
Koala happily graduated from Kindergarten.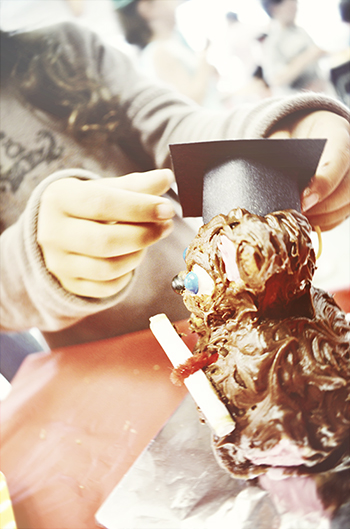 Grenouille is passing and going on the grade superior too, it was a rocky year but she is getting there. I learn everyday from being her Mom.
I don't drive yet, which limits our possibilities during the week days. Good thing we have neighbors who have kids, and they all play along well outside together (or come and go to one another's place) !
It seems like we have a crazy pattern when Summer break begins. Last year, we were full of lice (both the girls… and myself). We fought this sh!t for more than a month. This year, Koala got fever the first two days of vacations, and it appears that she has a bladder infection, poor darling (hearing your child scream from pain is more than heartbreaking), then we had plumbing issues and now our living room ceiling and part of a wall is a gigantic hole until the insurance sends us someone to repair, and now my Mom has health issue as well (a few days before flying back to France)… It's a lot in a short 7 days and I know that it will get better. It will get better.
But in these moments, I am reminded of what truly drives my life, every single day: Gratitude.
This is how I cope, I guess, with the yuckiness. It appears in everyone's life and we all have our way of dealing with it. Gratitude is mine, and it is what I teach to both our daughters: always be grateful for what is (and also for what is not (yet ?).
Do you like Summer ? If you are a parent, what are you favorite family activities during that break from school time ? Can't wait to have your input so please, share in the comments 🙂