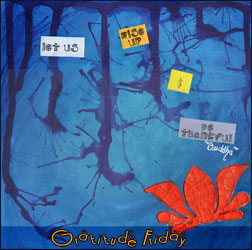 Gratitude Friday is a weekly ritual I started in order to focus on all the small and big positive things that happened during my week. I invite you to join me, you'll see how much being thankful can change your life. If you want to know more about it, read my introduction post.
Happy Friday darling Soul !
My heart is heavy, so it is important for me even more to sit down, let my girls for a while until this is published… I make it short today because my body is on fire; I knew it was coming but it doesn't make it any easier.
This week, I am thankful for:
Questioning our Spiritual boundaries, digging deeper, and sharing.

Getting out of my creative comfort zone.
India.Arie new album, Songversation.
Being able to sign up for an in-person workshop with Donna Downey at my local scrapbookstore next January.
Texting with my far-away friends.
Colors.
Chocolate.
The last minute cocktail party to say goodbye to Mom.
Movie date night with my hottie Husband (and the movie was great !).
Working on my new website/blog.
My past, present and future artwork.
Night time family story reading.
New possibilities.
Memory keeping.
The ocean.
What's on your Gratitude List today ?
If you wrote your Gratitude Friday on your blog, don't forget to enter your NAME and URL below so I'm notified and can come to read you (you can also join by commenting this post): [linkme]