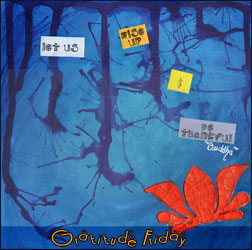 Gratitude Friday is a weekly ritual I started in order to focus on all the small and big positive things that happened during my week. I invite you to join me, you'll see how much being thankful can change your life. If you want to know more about it, read my introduction post.
Happy Friday !
Have you noticed how I was a bit more consistent in my blogging this week ? Makes me happy to share something everyday or almost.
This week… well, I am learning a LOT. Isn't it amazing and annoying how every step of the way is a new lesson ?
I feel like my heart is full again. What a nice feeling. I want to be one of those who always see the glass half full instead of half empty. Not letting the old fear staying the current fear.
This week, I am thankful for:
Friends
Food (more on that later)
Smoothies that really are smooth
Sunshine
My daughters
Good talks
Criminal Minds' dvds
Symbols
Learning
What are you thankful for, this week ?
If you wrote your Gratitude Friday on your blog, don't forget to enter your NAME and URL below so I'm notified and can come to read you (you can also join by commenting this post): [linkme]